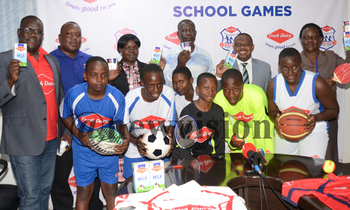 The Uganda Secondary Schools Sports Association (USSSA) will start enjoying Fresh Diary's sh3.8bn five-year sponsorship starting with the Ball Games 1 that started with district qualifiers on February 13 and will run until May 11.
This year's games will attract 2500 secondary school students that will compete in seven sports disciplines that include Basketball, Girls Football, Rugby 15's, Hockey, Table Tennis, Badminton, and Tennis, according to USSSA General Secretary Christopher Mugisha.
He said the number of teams had been reduced to ensure quality competition as schools struggle to meet their slots to compete at the national level.
Basketball with 48 teams (boys and girls) has the biggest number of competitors while Hockey, Table Tennis, Badminton, and Tennis will have 12 boys and girls teams each.
The district qualifies are currently ongoing until March 31 at various venues and grounds before the best teams in the districts converge to compete at the regional finals between April 1-27 ahead of the national finals, May 4-11 at Mbale Secondary School.
"We welcome the sponsorship, it is a big relief for schools, the organisers because it covers a lot of things," Mugisha stated.
Fresh Dairy Marketing Manager Vincent Omoth said they were humbled by the role they were playing in growing the stature of Uganda's secondary school games.
L-R: Fresh Diary's General Manager Joseph Awino (left), Marketing Manager Vincent Omoth (2nd left) Senior Education Officer at Ministry of Education and Sports Grace Abalo, USSSA'sRichard Muhumuza, General Secretary Christopher Mugisha, Treasurer Justus Mugisha and Eunice Openjuru, pose with some of the students and games items during a press conference to launch the Ball Games 1 at Fresh Diary offices
"At Fresh Diary, we believe in developing a complete individual in terms of sports, academia and healthy. Our sponsorship essentially serves to nurture the sporting talent of our youth while highlighting the need for health and nutrition using our products," Omoth said.
He said the sponsorship will go towards kitting every team with each player getting two sets of kit during the national finals, publicity, branding venues, activations in the region and administrative costs including trophies, medals, and certificates.
Fresh Diary will also mount a robust advertising and publicity campaign for the games across Uganda to heighten participation and interest in the games nationally.
Senior Education Officer at the Ministry of Education and Sports Grace Abalo said the Ministry of Education and Sports was very happy to be working with Fresh Diary in running one of the biggest tournaments.
"The sponsorship comes at an opportune moment when the government was looking around for sponsors. It's a two in one program that also helps the talented to further their studies especially those who come from a poor background," Abalo said before she called for accountability.
"The sponsorship package is big and it comes with a responsibility to all stakeholders to ensure accountability and responsibility for every cent. The Sponsorship will be jointly managed in the most transparent manner ever," Abalo stated.
She said school sports forms the foundation of elite sports and talent development starts from the grassroots and thanked Fresh Diary for making the right choice to start from down to nurture the players in the education institutions
"We look at the educational institutions as the starting point to ensure talent is developed in a more systematic manner,"