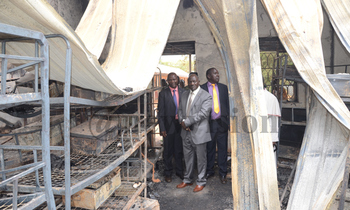 A five-year-old pupil was burnt to death while a matron sustained serious burns when a mysterious fire gutted down a girls' dormitory at St Jude PS in Nakasongola ,Thursday morning.
School beds and personal belongings of over 200 Nakasongola, reduced to ashes by the fire which broke out after midnight on Thursday.
The school administration identified the dead pupil as Eteno Favor ,a primary one pupil at St.Jude PS.
The matron identified as Mariam Bihinzirwe was admitted at Nakasongola hospital while in critical condition due to the severe burns that she sustained, while rescuing the pupils.
The headmasters of the catholic church UPE school,Br. Vianne Twongyeirwe said the congested dormitory where pupils slept on triple deckers caught fire at around midnight.
He said the dormitory had a total of 210 pupils of which one died.
Nakasongola District Education Officer,Lubega Kajura who visited the school on Thursday morning said the cause of the fire had not been established, although the school administration could not totally rule out arson
An impromptu security meeting that held at around 10 am resolved to temporily the school until March 4,as police carried out investigations.
Hundreds of parents jammed the school to collect their children as the burnt dormitory continued to smolder by Thursday morning.
The area MP Noah Mutebi said he was going to contact the office of the prime minister so that the school could be assisted.