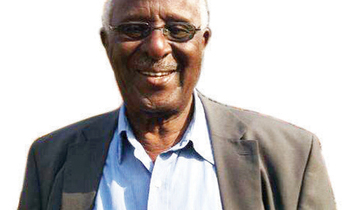 CIVIL SERVANT DEATH

The country is mourning the passing on of the Mzee Hezron Kakuyo, a former civil servant who worked in various regions of Uganda.

Kakuyo is also the father of Allen Kagina, the boss of the Uganda National Roads Authority (UNRA).

Kakuyo, 93, is said to have passed on Tuesday due to a heart attack. He died on his way to hospital.

Hundreds of Government officials including the Prime Minister, Dr. Ruhakana Rugunda, relatives and friends are gathering at the All Saints Church in Nakasero to celebrate his life.

Kakuyo is remembered to for having been a strong advocate of the Girl Child Education. He served in different position as public servant before retiring in 1976.

After the funeral service, his body will taken to his home in Kikatsi sub-county, Nyabushozi County in Kiruhura District, where he will be laid to rest.

Who was Kakuyo?

Feb.2, 1926: Kakuyo was born

1935 - 1940: -Joined Kinyasano Elementary Vernacular School.
1940 - 1941: -Joined Kigezi High School
1941 - 1943: -Joined Mbarara High School
1944 - 1946: -Joined Kings African Rifles.
-Trained in East African Army Medical Corps, qualified as a Nursing Orderly.
1947 - 1949: -Trained as a Medical Assistant, Masaka Medical Training Centre.
1950: -Qualified & worked as a Medical Assistant, Masaka Training Centre as a Tutor for one year.
1951 - 1954: -Worked as a Medical Assistant in Kabale Hospital & Rukungiri Medical Centre as Officer-in-Charge.
1954: - Worked as a Gombolola Chief in Nyakagyeme, Rujumbura County, Rukungiri istrict.
1957 - 1958: -Went to Britain & took a course in Public & Social Administration, obtained a Diploma in Public & Social Administration.
1959 Nov. - 1968: Became Saza Chief of Kinkizi.
1968 - 1969: -Became District Commissioner Kasese district.
1968-69: - Assistant District Commissioner Tororo district, Fort Portal.
1969-1972: - District Commissioner Masindi district.
1972-1974: - District Commissioner Busoga District, Jinja.
1974 - March, 1976: - Provincial Executive Secretary ( Deputy Governor) Busoga Province.

1976 March: -Retired from Civil Service.
1980: -Worked as Chairman, District Service Committee, Mbarara district for one year.
1982 - 2011: -Worked as a Councillor, Kikatsi LC3 in an Advisory capacity as an Elder.
2011-Todate: - Retired on his farm, Kikatsi sub-county, Nyabushozi County in Kiruhura district