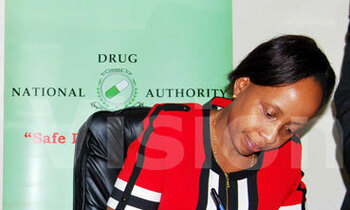 The National Drug Authority (NDA) has appointed David Nahamya, a director of inspectorate and Enforcement as the acting Secretary to the Authority. This comes after the Court of Appeal ordered the former executive Secretary Donna Asiimwe Kusemererwa to vacate office.
The order by the Court of Appeal follows a 2017 ruling by the High Court that the appointment of Donna Asiimwe Kusemererwa as the executive director of National Drug Authority (NDA) in January 2016 was "unlawful, unjustifiable, null and void".
In a notice, signed by Medard Bitekyerezo, the NDA board chairperson, Nahamya's appointment comes after the Court of Appeal dismissed an application in which Kusemererwa had appealed the orders of the High Court amongst which, an injunction was issued restraining her from acting in the position of the Secretary to the Authority.
"We would like to assure the public that the Authority has, through its internal mechanisms as provided by law, been able to fill the management gap and operations are running normally," said Bitekyerezo.
Kusemererwa's reign at the drugs Authority has been marked with controversy. In 2017, the High court in Kampala cancelled her appointment as the executive director on grounds that the position was non-existent and that it contravened Section 54 (2) of the National Drug Policy and Authority Act Cap 206.
This was contained in an application filed by Florence Obiocha Nakachwa, who was challenging the termination of her contract as the head of Drug Assessment and Registration. Nakachwa also asked court to declare that Kusemererwa was holding out as secretary to the authority null and void.
Court directed that Kusemererwa immediately stops to act as the executive secretary to the NDA board and ordered that the Authority advertises the position within 60 days from the day the judgement was delivered.
Speaking to New Vision, Kusemerewa who sounded happy confirmed that she had left office on Thursday and was still trying to re-organise her life for her next move.
The NDA, a government entity which is mandated to deal with the development and regulation of the pharmacies and drugs in the country, and control the importation, exportation and sale of pharmaceuticals has been marred by incidents of abuse of office, threatening the credibility of the organisation.
At the beginning of 2015, Gordon Sematiko was fired from the position of executive secretary with the board accusing him of fixing NDA's stash of cash on interest-earning bank accounts without its authority.