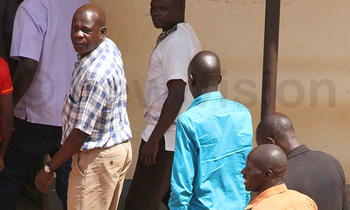 The High Court sitting in Lira on Monday handed down a sentence of 45 years imprisonment to a man who was convicted for the murder of his workmate.
Jackson Ochan, 54, guilty of the murder of Sylvia Osinya on October 24, 2015, at Ireda Lumumba in Lira Municipality by Justice Alex Mackay Ajiji.
Ochan was jointly charged with Jane Ajok Nabinya and Geresom Mukasa but during the trial, Mukasa was acquitted while Ajok had the case against her withdrawn by the DPP and she turned prosecution witness.
The facts of the matter according to prosecution are that Jane Ajok, Mukasa and Ochan were all employees of Fresh Horizon Ltd, dealing in the buying of produce in northern Uganda.
The prosecution stated that a misunderstanding happened between the trio and Osinya who was working as an administrator. Osinya on September 21, 2015, notified the company's managing director who immediately issued an internal administrative memo to guide the staff on their duties.
Osinya then went missing from the rental house she was sharing with the trio before her body was discovered two weeks later, naked behind the house. A post-mortem revealed that the cause of death was asphyxiation following ligature strangulation.
While reading the judgment in a fully packed courtroom, Ajiji said Ajok told the court that it was Ochan who murdered Osinya threatened her to not only not reveal what had happened but also made her lick the deceased's blood that had spilt, off the floor.
In her submission before passing the sentence, prosecution led by resident state attorney Gloria Akello told the court that the society should be protected by not only passing a sentence that is deterrent to others but also to keep the convict away from society for long. She suggested that the court hands down a 60-year sentence. "The murder was properly planned and executed," she said.
Akello said the death of the deceased is a big loss to the family because she was the breadwinner.
The defence pleaded that the sentence should be one that will allow the convict to go back home because a harsh sentence will not change the situation.
"The convict is now a born again Christian, secretary to the human rights group at the prison which indicates that he is changed," defence submitted.
Ajiji, however, said that after carefully looking at both submissions, the murder was carefully planned and executed and that Ochan should be put away from society for a long time.
He then sentenced him to 45 years imprisonment and deducted the three years spent on remand.