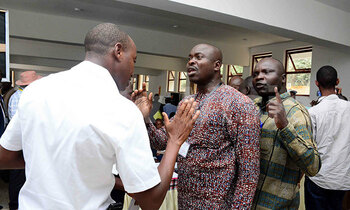 UGANDA LOCAL GOVERNMENT ASSOCIATION ELECTIONS
MOROTO-Karamoja Region has won the Uganda Local Government Association (ULGA) Presidency after the Napak district chairman; Joseph Lamonyang beat Mityana's Joseph Luzige from Central region in the two-man contest at Leslona Hotel in Moroto town.
Lamonyang garnered 140 votes against 123 for Luzige out of a total of 263 cast votes of 399 voters who registered for the election on Monday. The voters included LC5 chairpersons, their speakers and LC3 chairpersons and their speakers who came from five regions of Karamoja , Western, Eastern, Northern and Central. Although the winner collected votes from all regions, Luzige obtained zero from Karamoja.
The election was however marred by fracas after the outgoing president and Lwengo district chairperson, Gorge Mutabaazi pulled out of the race at the last hour. He did not give reasons but declared his support for Lamonyang.
Trouble started when Mutabaazi called off the election for the post of the presidency declaring that Lamonyang had sailed through unopposed.
He invited Lamonyang before the podium and declared him president, saying there would not be election for the seat.
The pronouncement drew cheers from a section of Lamonyang's supporters but annoyed supporters of other candidates who protested and booed Mutabaazi saying he did not have the mandate to declare a candidate unopposed.
The election of the association president, regional vice presidents, speakers and a representative of Chief Administrative Officers was the climax for this year's association Annual General Meeting. Elections take place every after two and half years.
Mutabaazi attended a meeting in the morning with the Local Government Minister, Col. Tom Butime and State Minister for Local Government, Janipher Namuyangu at Moroto Hotel but after he told his campaigners that he was pulling out of the race and asked them to remain calm, some of them protested saying they had wasted their time and resources.
Some of them were already wearing his T-shirts with his portrait and distributing fliers and accused him of bowing to pressure to pull out.
Supporters of the Mityana district, Joseph Luzige stood up and waved his posters in protest. Other supporters belonged to the Katakwi district chairman, Walter Okiring who also protested the move and shouted down Mutabaazi as organisers called in the Police to handle the situation. There was earlier heavy deployment of Police in and outside the venue.
It took the intervention of organisers including ULGA Secretary General, Rose Gamwera and Operation Wealth Creation deputy chief coordinator, Lt. Col. Charles Angina to calm down the fired audience.
Mutabaazi was later ruled out of order and resumed his seat with the ministers but later sneaked out of the meeting during break and left the venue.
When the meeting resumed, Kabale district chairman and outgoing vice president for western region, Patrick Besigye took over Mutabaazi's role and resolved the executive committee and members were allowed to nominate names. Besigye, however retained his seat unopposed.
Okiring (Katakwi district) also stood down after he had been nominated leaving two candidates, Luzige and Lamonyang in the race although this also annoyed some of his supporters who walked away in protest. They included Serere district chairman, Joseph Opiti who said he was not happy that his candidate (Okiring) had been pressured to pull out.
He blamed the government for interfering in the affairs of the association.
The election was chaired by Swizin Kinga Mugyema, commissioner local councils development from the Ministry of Local Government.
Andrew Ssenyonga won and retained his seat as vice president for the central region, Patrick Kayemba for Eastern, Alex Leku was unopposed for Northern, Mark Abuku took Karamoja while Besigye represents Western region .