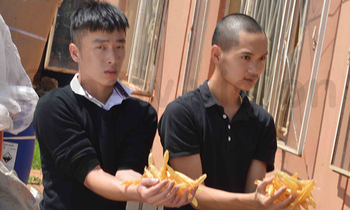 Two Chinese nationals have been convicted over unlawful processing and exportation of fish products worth sh270m.
Buganda Road Court Grade One Magistrate Gladys Kamasanyu on Monday ordered Lee Zhiming and Liv Lepenge to pay sh4m or go to jail for two years.
"I note that unlawful exportation of fish especially maws is on the rise in the country. However since you did not waste the court's time, each of you is fined sh4m or in default be jailed for two years," the magistrate ruled.
The magistrate also ordered that the fish maws be handed over to the state for proper management. Fish maws, locally known as enuuni, are white hollow, but hard membranes found inside the body of the Nile Perch.
By press time, the two convicts were in vigorous arrangements to pay the money and were still being held at the court cells.
The magistrate convicted the duo on their plea of guilty on the charge of unlawful procession and exportation of fish products without a license contrary to Fish Quality Assurance laws.
After accepting the offence, the duo requested the court to award them a non-custodial sentence, saying that they will never commit the offence again.
"I committed the offence but I would like the court to give me a lenient sentence because I have responsibilities at home," Zhiming asked magistrate.
However, state attorney Harriet Kigozi did not object to the move, but, requested court for a deterrent sentence, noting that the act is on the rise.
The accused were last month, arrested by Fisheries Protection Force operatives for illegally processing and exporting fish products from Kalungu Village, in Bunga, a Kampala suburb, and detained at Kabalagala Police Station.
According to court documents, the duo was found with 180kgs of maws hidden in the ceiling of their residence at Kalungu-Bunga within Makindye division.
Innocent Mugabi, the technical assistant from the ministry of agriculture and fisheries said the impounded maws, valued at sh270m were each extracted from an immature Nile Perch, hence causing loss of revenue to the government.
"The amount lost would have been obtained from the sale and export of mature fish," he said.
Gordon Muzinguzi, who commanded the operation said the arrest of the convicts followed a tip from the area residents, who gave his crew intelligence about the activities of the two Chinese nationals.