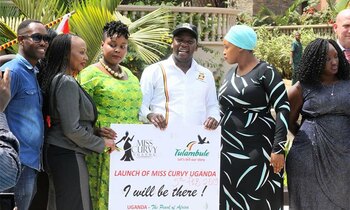 TOURISM MISS CURVY BEAUTY CONTEST
A concerned citizen, Gideon Tugume has run to the Chief Magistrate's Court in Mengo, seeking to block Miss Curvy beauty contest, which is expected to take place in June, this year.
In the suit filed against the state minister of tourism, Godfrey Kiwanda, Tugume states that the project promotes prostitution in Uganda. The minister launched the project recently.
"Mungoma and her Miss Curvy Uganda project are probably linked to prostitutes and nude dancers which is likely to motive and promote prostitution in Uganda, an activity against the Penal Code Act (PCA), Cap 120," Tugume contends.
He wants court to compel Kiwanda to issue an apology to the nation through the media and an order barring the event from taking place anywhere in Uganda.
Kiwanda is being sued alongside Anne Mungoma, the chief organiser of Miss Curvy Uganda contest.
He is also seeking orders that Kiwanda and Mungoma be personally charged for offending the Public Order Management Act.
In his suit, Tugume states that Miss Curvy event is discriminative, degrading and shameful to the culture and heritage of Uganda.
He contends that the competition is against Uganda's culture of respecting women, laws and dignity.
Court documents indicate that on Feburary 5, 2019, Kiwanda and Mungoma mobilised women and girls and addressed the media of their intention to hold Miss Curvy, which Tugume describes as "the contest of buttocks in Uganda" to be organised in June 2019.
He argues that there is currently no law and guidelines under which such an event can be held.
Tugume states that much as women activists, religious leaders and civil society organizations have protested the event, the defendants have continued to register and address the media with the same intention of holding the same pageant of buttocks competition.
Tugume contends that the defendants together with others have knowledge of the motive but proceeded to address the media with an intention of causing anger to the women and other members of the society did not do anything to stop it.
This, he said is against Section 389 of PCA and the Public Order Management Act. The section stipulates that every person who, knowing that a person designs to commit or is committing a felony, fails to use all reasonable means to prevent the commission or completion of the felony commits a misdemeanour.
A misdemeanour is an act that some people consider to be wrong or unacceptable
Also related to this story
Museveni speaks out on Miss Curvy