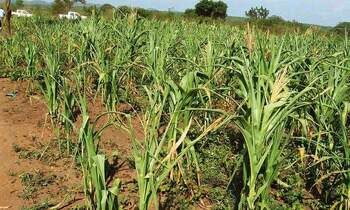 AGRICULTURE
NAMUTAMBA- The poor food yields in Namutumba district this season has been attributed to the substandard inputs handed over to farmers under the operation wealth creation programme.
The LC5 chairman Namutumba,Hajji Saleh Kumbunga said majority of the farmers were given rotten sweet potato and cassava cuttings which could not mature.
Kumbunga said farmers were shocked after they discovered sweet potato cuttings dumped at their door steps in the morning hours.
He said the district council passed a resolution following complaints from farmers compelling government replace the inputs so that farmers realise a better food harvest in vain.
Kumbunga said proper guidelines should be followed during purchase of inputs for farmers under the operation wealth creation programme to avoid a repeat of the previous mess.
One of the farmers, Sande Babalanda of Bulange village Bulange sub-county said he decided to abandon planting the sweet potato cuttings after discovering that it was a waste of time.
Babalanda said even the quantity of the sweet potato cuttings he had received were far too less compared to the acre age of land he had anticipated to plant.
The district councilor for Ivukula subcounty, Paul Waako said majority of people in his area are faced with acute famine as a result of the poor yields brought about by the the substandard inputs from the operation wealth creation programme.
Waako said almost three quarter of locals in Ivukula sub-county rely on farming in order to earn a living but currently cannot feed their families besides pay school fees or meet other domestic needs due to the poor food yields.
The district production officer Namutumba, Apollo Waibi when contacted promised to investigate the allegations about the substandard inputs handed over to the farmers