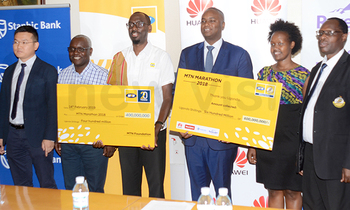 Each of the MTN Kampala Marathon partners will this year be involved in the implementation process and take ownership of a project, in one of five regions each, following the announcement of sh1b as proceeds from the 2018 run.
Following the extension of the event from Kampala to other parts of the country; in Mbale, Gulu and Mbarara, sh600m million was raised from the 30,000 people that participated in the 14th edition of the event.
The MTN Foundation made an additional sh400m, in celebration of their 20th anniversary bringing the total to sh1bn.
Organisers MTN, Uganda Athletics Federation (UAF) and Spedag will use sh200m to ensure the improvement of health centres in the west (Hoima). Other partners Vision Group, Stanbic, Huawei, Rwenzori water, will also receive the same amount each for projects in the East (Mbale), North (Gulu), Central and South West (Mbarara) respectively.
Proceeds from the 2018 run were geared towards improving maternal health in different health facilities across the country.
Addressing the press before he handed over an sh200m cheque to Stanbic at the bank's headquarters, MTN Senior Manager Brand and Communications Manager Martin Ssebuliba praised all the partners for their participation and contribution and especially Stanbic for their growing contribution toward the marathon each year.
"This money is going to be split equally among the partners with each one of them leading the implementation in the region. We want to thank our partners very much for supporting us this long and we believe that together we are going to make a difference in the lives of expecting mothers in Uganda," Ssebuliba said.
Stanbic Bank's Chief Executive Patrick Mweheire praised MTN for organising 'the signature event' that has continued to grow from to grow from strength to strength and for reaching the sh1bn mark. It is such a nice good feeling event; doing well by involving our staff and be able to give back to communities that we serve. We shall continue to support the marathon on top of our core CSR obligation of supporting education," Mweheire stated.
Vision Group CEO Robert Kabushenga said the money will improve the plight of women who have been giving birth in banana plantations and be able to improve their basic hygiene.
"We are very happy to be part of it because it is such a big thing. We shall be with you in many more marathons to come," Kabushenga remarked.
Flavia Mbabazi Nabaasa the Business Development and Commercialisation Director, Rwenzori Water said it was a great honour to be part and see such big brands come and rally behind mothers while Huawei Deputy Managing Director Eric Tuguodong whose company contributed sh250m said the company will continue giving back to the community to make Uganda a better place.
"We shall continue with the support and together we expect another successful event," Tuguodong stated.
UAF president Dominic Otuchet thanked the partners for addressing a pertinent cause in the country and for making Ugandan know that sport can be used for other initiatives.
"The MTN Marathon is becoming more international because we now have a better course, better management and because of the support of all the partners and we pledge to make it better," Otuchet said.