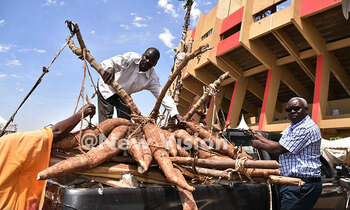 ROLLING NEWS THROUGHOUT THE DAY

Presented by Joseph Kizza
@joekizza

____________________________________


4:30pm


Goodbye


Let's meet again tomorrow.

Cheers!
#UgandaToday

____________________________________

4:20pm

Bamwoze was pivotal in youth affairs - Museveni


President Yoweri Museveni, in his brief eulogy before Parliament, says he knew the Rt. Rev. Cyprian Kikuni Bamwoze for 57 years, having first met him at a Christian Youth Conference in Namugongo in 1962.

"We used to have Christian youth camps. I was a mulokole (Born-again Christian) and a very active member of the Scripture Union Movement," says Museveni.

The camps, he says, were good because they helped the young people learn about the Bible. "It help me a lot". It was only recently that Museveni got to learn that Bamwoze was one of the organisers - as a secretary of youth affairs in the diocese at the time.

The President says when the Church connects with the youths, it cannot go wrong.
#UgandaToday

____________________________________

3:55pm

PRESIDENT MUSEVENI ARRIVES AT PARLIAMENT

The special sitting of Parliament is suspended for 10 minutes to allow the Speaker, Rebecca Kadaga, receive President Yoweri Museveni, who is in the House to pay his respects to the Rt. Rev. Cyprian Kikuni Bamwoze.

MPs recline into one-on-one chats as they await the arrival of the head-of-state into the chambers.
#UgandaToday

____________________________________

3:50pm

Bishop Bamwoze was 'a supporter of development'

Mityana Municipality MP Francis Zaake represents the Independents.

He says Bamwoze was a supporter of development and that he "meant well for Ugandans".

Zaake says the former bishop's resigning his position as bishop was a "sign of civility".
#UgandaToday

____________________________________

3:45pm

Parliament honours Bishop Bamwoze

The family of the fallen former bishop, who died aged 86 on Monday, is at Parliament for th special sitting. Former MPs and government officials are also attending.

Bukonzo East MP Tonny Muhindo is representing the Leader of Opposition in Parliament (Betty Aol) in eulogizing Bamwoze on behalf of the Opposition.

"He excelled in pig farming," he says, adding that Bamwoze "worked hard to improve church-funded primary and secondary schools, as well as donating land for the establishment of Busoga University.

"We convey our heart-felt condolences to the family of the late Bishop Bamwoze."
#UgandaToday

____________________________________

3:31pm

Bamwoze was a compassionate person - PM Rugunda

The Prime Minister, Dr. Ruhakana Rugunda, is addressing a special sitting of Parliament in honour of the late Rt. Rev. Cyprian Kikuni Bamwoze.

"Bishop Bamwoze was a compassionate person who mentored many across the globe," he tells an attentive audience of legislators before a Uganda flag-draped coffin of the fallen clergyman.

Bamwoze facilitated the establishment of many schools in Busoga, including Nkutu Memorial Secondary School in Iganga district. He also facilitated the translation of the Bible into Lusoga and by 1998, the first translated version of the New Testament in Lusoga was printed, says Rugunda.
#UgandaToday

____________________________________

3:15pm

PARLIAMENT HONOURS BAMWOZE

The Speaker of Parliament Rebecca Kadaga is chairing a special sitting of Parliament to honour the late former Bishop of Busoga Diocese, Cyprian Kikuni Bamwoze.

Earlier in the morning, a funeral service was held at Namirembe Cathedral in Kampala for the fallen clergyman.

Deputy Speaker Jacob Oulanyah, who attended the church prayers, is also present at Parliament.
#UgandaToday

____________________________________

2:45pm

HARVEST MONEY EXPO: From Friday to Sunday

Gates will open at 6:30am for the three days of the event at Namboole Stadium.

On the eve of the opening, exhibitors are busy getting their stuff ready for the expo.


#UgandaToday

____________________________________

2:30pm


HARVEST MONEY EXPO 2019




We are only hours away to the opening of the biggest farming expo in Uganda.

Vision Group (organisers of the expo) chief executive Robert Kabushenga made his way to the venue - Namboole Stadium - to see how the preparations are going on, and most importantly to ensure that everything is set and on schedule.


#UgandaToday

____________________________________
1:47pm

Senior Five selection

The two-day exercise kicked off Thursday at the Uganda Manufacturers' Association (UMA) grounds at Lugogo in Kampala.


#UgandaToday

____________________________________

1:00pm


LUNCH BREAK


Gotta recharge.

Will be back in a few. Enjoy your lunch :)
#UgandaToday

____________________________________

12:54pm

Makerere vice-chancellor appears before parliamentary committee

Prof. Barnabas Nawangwe has made an appearance before the education committee of Parliament to respond to the impasse at Makerere University - plus to other matters.


Makerere Vice Chancellor, Prof. Barnabas Nawangwe is appearing before the Education Committee to answer queries on the recent strike at the University, and respond to Speaker @RebeccaKadagaUG's concerns on gender inequality in the recent appointments to the University board. pic.twitter.com/M5RlZLk4UC

— Parliament of Uganda (@Parliament_Ug) February 14, 2019
#UgandaToday

____________________________________

12:43pm


Valentine's Day: The mood in Soroti ❤️


New Vision's Godfrey Ojore:

Today may be a normal working day but a cloud of love and hearty vibes is hanging in many places - in Soroti too.

On a day of celebrating love, the streets of Soroti town are proof that the tradition of Valentine's Day still lives on - in one corner, couples holding hands and musing sweet things to each other as their eyes lock in pure infatuation. Across the street, a hug here, a kiss there. Inside a number of offices, gift hampers arrive at the desk of smitten individuals - most caught completely offguard.

Such is the mood in this eastern Uganda town.

But in truth, it's easy to notice that it's the fairer sex that have been more keen on embracing the day.

Take, for instance, Angella and Essy of Etop Radio. They have worn red - a symbolic colour - and are in a jolly mood.


"This day is so special for me and I always celebrate it even when my man is not around like this year," says Essy as she flashes her pearly whites.

Meanwhile, Etop Radio is also in celebratory mood and will this evening host 14 couples at a lavish hotel in Soroti town.

"We have sponsored their dinner as one way of making our lucky couples to renew their love. We have been doing it and we shall continue doing it," says Joseph Akiiso, the station manager.

Other people are celebrating love in their unique ways.

And who says you have to have a flower when you can wear it, huh? Ask this beautiful lady (in the picture immediately below on a bike), who slapped on a floral dress on a day cherished by millions of people around the world.


But not everyone is in the mood.

"Is Valentine's Day a new law that our MPs have again made to compel us to wear black and red? If it's not, then why are you questioning my dress code," asks a one Levi Opio.

Uhm, that was frank, eh?


#UgandaToday

____________________________________

12:23pm


Mysterious Valentine ❤️


A blind date of good food, heartwarming vibe - plus a hug. It doesn't get any better than this.


Up Next: A #ValentinesDay Special - #MyMysteriousValentine a blind date at @Karveli_Kampala restaurant, Vivian Alinda gets to meet her Mysterious Valentine.

Who will the lucky guy be? TUNE IN #HappyValentinesDay pic.twitter.com/29Se0IfSYx

— Urban Television (@UrbanTVUganda) February 14, 2019
#UgandaToday

____________________________________

12:14pm


How about a cockroach for Valentine's?


On the Valentine's theme - but on the wacky side


Forget chocolate, flowers or a romantic dinner. A zoo in Texas is offering singles the chance to name a cockroach after their ex and see it fed to a meerkat live on camera on Valentine's Day.

In a campaign dubbed "Quit Bugging Me!!!" the El Paso Zoo says the roach is a perfect Valentine's gift for those needing closure on a past relationship that didn't make the grade.

It said a cockroach would be assigned to each nominee and the bugs would be fed to meerkats in an event streamed on the zoo's website and Facebook page on February 14.

Zoo officials said Madagascar hissing cockroaches would likely be used for the feast.

"They do actually hiss, they are a very large species of cockroach, definitely not the largest, but it is one that we actually do breed here at the zoo for feeding purposes," Sarah Murphy, an education specialist at the zoo, told the local ABC station.
#UgandaToday

____________________________________

12:03pm


Valentine's Day: 'Do not drink and drive'



Dr. Diana Atwine, the health ministry's permanent secretary, has a message for y'all as you celebrate love ❤️


As we go into Valentine's celebrations, please take my message below. 🙏 pic.twitter.com/2sIwOTPIhm

— Dr. Diana Atwine (@DianaAtwine) February 13, 2019
#UgandaToday

____________________________________

11:48am


WATCH: Unsafe food can cause more than 200 diseases


Did you know that?

Now that you do, the World Health Organisation (WHO) is giving you five keys to safe food.

Keeping clean, separating raw and cooked food and cooking food thoroughly are some of them.


Unsafe food can cause over 200 diseases.
🍗🍝🥘🍲🍜🍳🍠🍵🥗

Do you know the five 🔑 keys to #SafeFood?
1⃣Keep clean
2⃣Separate raw & cooked food
3⃣Cook thoroughly
4⃣Keep food at safe temperatures
5⃣Use safe water & safe raw materials pic.twitter.com/Rww2KfHyOk

— World Health Organization (WHO) (@WHO) February 13, 2019
#UgandaToday

____________________________________

11:37am


Volleyball: Nemostars set for Zone 5 tourney


Uganda Men's National Volleyball League title holders, Nemostars Volleyball Club, will participate in the Africa Volleyball Club Championships from March 30 to April 11 in the Egyptian capital Cairo.

Ahead of the event, the clud will take part in preparation games at the Zone 5 Championships from February 19 to 24 Kigali, Rwanda.
#UgandaToday

____________________________________

11:23am


Mission complete: NASA announces demise of Opportunity rover


From beyond the planet we call home

(If you are keen on the extra-terrestrial subject, this might do for you).

During 14 years of intrepid exploration across Mars it advanced human knowledge by confirming that water once flowed on the red planet -- but NASA's Opportunity rover has analyzed its last soil sample.

The robot has been missing since the US space agency lost contact during a dust storm in June last year and was declared officially dead Wednesday, ending one of the most fruitful missions in the history of space exploration.

Unable to recharge its batteries, Opportunity left hundreds of messages from Earth unanswered over the months, and NASA said it made its last attempt at contact Tuesday evening.

"I declare the Opportunity mission as complete," Thomas Zurbuchen, associate administrator of NASA's Science Mission Directorate told a news conference at mission headquarters in Pasadena, California.

The community of researchers and engineers involved in the program were in mourning over the passing of the rover, known affectionately as Oppy.

"Spent the evening at JPL as the last ever commands were sent to the Opportunity rover on #Mars," Tanya Harrison, director of Martian research at Arizona State University, tweeted after a stint at Pasadena's Jet Propulsion Laboratory.

"There was silence. There were tears. There were hugs. There were memories and laughs shared. #ThankYouOppy #GoodnightOppy," she wrote.


The nostalgia extended across the generations of scientists who have handled the plucky little adventurer.

"Godspeed, Opportunity," tweeted Keri Bean, who had the "privilege" of sending the final message to the robot.

"Hail to the Queen of Mars," added Mike Seibert, Opportunity's former flight director and rover driver, in another tweet while Frank Hartman, who piloted Oppy, told AFP he felt "greatly honored to have been a small part of it."

"Engulfed by a giant planet-encircling dust storm: Is there a more fitting end for a mission as perfect and courageous from start to finish as Opportunity?" he said.

The program has had an extraordinary record of success: 28.1 miles (45.2 kilometers) traversed, more than the Soviet Union's Lunokhod 2 moon rover during the 1970s and more than the rover that US astronauts took to the moon on the Apollo 17 mission in 1972.

Opportunity sent back 217,594 images from Mars, all of which were made available on the internet.
#UgandaToday

____________________________________

11:10am


PREMIER LEAGUE: Express pick three away points


Nyamityobora 0-2 Express

The Red Eagles were in action on Wednesday against strugglers Nyamityobora FC, and they did well to plunge the Abanyankare into deeper trouble.

Second-half goals by Frank 'Zaga' Tumwesigye and Brian Umony were enough to give Express victory after a poor run of three defeats, a reult that buoyed them to 10th place on 24 points.

Nyamityobora, meanwhile, suffered a third straight defeat to remain in the bowels of the log in 15th place and on 12 points.

The league will take a break until mid-next week to give way for Uganda Cup fixtures.
#UgandaToday

____________________________________

11:05am


PREMIER LEAGUE: KCCA extend lead at the summit


KCCA 2-0 BUL

KCCA FC secured maximum points against BUL FC on Wednesday to pull farther away from second-placed Vipers SC, the defending champions.

Patrick Kaddu and Mike Mutyaba both scored to help Mike Mutebi's side reach 44 points after 19 games, and establish a six-point gap between them and the Venoms, who slipped in a 1-1 draw against Tooro United on Tuesday.


📷 today's goal scorers @KadduPatrick9 and @MikeMutyaba18 . #StarTimesUPL #KCCABUL pic.twitter.com/T2TSq3a4JM

— KCCA FC (@KCCAFC) February 13, 2019
#UgandaToday

____________________________________

10:47am

Bamwoze funeral service: A full house at Namirembe

High-profile people are attending the funeral service of former Bishop of Busoga Diocese, Cyprian Kikuni Bamwoze, at Namirembe Cathedral in Kampala.



Deputy Speaker of Parliament Jacob Oulanyah . . .




National Resistance Movement (NRM) secretary general Justine Lumumba Kasule . . .


Former Electoral Commission chairperson Eng. Badru Kiggundu on the same row as former Ugandan First Lady Miria Obote and her son Jimmy Akena, the current president of the Uganda People's Congress (UPC) . . .


Former security minister Lt. Gen. Henry Tumukunde . . .


#UgandaToday

____________________________________

10:35am

Funeral service for the late Bamwoze at Namirembe

A funeral service is being held for the fallen former Bishop of Busoga Diocese, Cyprian Kikuni Bamwoze, at Namirembe Cathedral in Kampala.

Later this afternoon, Parliament will hold a special sitting to pay tribute to Bamwoze, who died Monday morning at the Uganda Cancer Institute after a long battle with cancer. He was diagnosed with leukemia in August 2017 and has since been in and out of hospital.

Bamwoze retired in 1998 and was succeeded by Dr. Michael Kyomya.going on at Namirembe Cathedral.


#UgandaToday

____________________________________

10:18am


New footage of rare giant pangolins in Uganda


Researchers from a British Zoo on Wednesday released rare footage revealing the secret lives of giant pangolins, considered one of the world's most trafficked mammals.

The footage was captured by 70 motion-sensor trail cameras installed by the zoo's team at Uganda's Ziwa sanctuary.

It was captured by Chester Zoo conservationists, shows a pangolin, known as scaly anteaters for their protective armour, sitting on its powerful tail while grasping a tree with its claws.

Meanwhile in another segment observed by the remote-operated cameras, a baby clings to the back of an adult as it rummages through bushes.

Researchers hope the imagery could provide new insights into the secretive nocturnal species only found in equatorial Africa, which are being pushed to extinction by illegal hunting for its scales and meat.

"With no giant pangolins in zoos or safari parks anywhere in the world, all our conservation efforts must focus on saving them in the wild," Stuart Nixon, Chester Zoo's Africa field programme and research lead.

"The race is on against criminal networks that only value dead pangolins, to save this species and protect them well into the future."


The giant pangolins, one of four species in Africa, live there alongside protected rhinos but are increasingly threatened by poaching.

"Being nocturnal, rare and very shy it's only with new technologies such as high sensitivity trail cameras that we are able to learn more about how they live and interact with each other and their environment," added Nixon.

Sam Mwandha, the executive director of the Uganda Wildlife Authority, hailed the rare glimpses of the giant pangolins as "very exciting".

He stressed the need to "protect and conserve this highly threatened species for future generations".
#UgandaToday

____________________________________

9:50am


HARVEST MONEY: The stage is set - one day to go!



Are you an exporter or an importer seeking ideas on how to network with your clients? The Harvest Money Expo has answered your prayer. The three-day event will help importers and exporters to network as a way of boosting their businesses.

The farming exhibition is organised by Vision Group at the Mandela National Stadium, Namboole in Wakiso district. It is slated for Friday till Sunday under the theme Farming as Business.

This will not only help them to link with the best suppliers and buyers of the best equipment and other tradable materials, but will also help in promoting value addition which can enhance export promotion.


According to Joweria Nabuuma, the events manager for Vision Group, final preparations are in high gear.

Visitors will be expected to arrive on Friday starting 6:30am. Entrance is sh10,000 for stall visitors while those wishing to train in any session will pay sh10,000.

She said about 15 senior government officials have confirmed attendance in order to educate people about the different programmes they are working on, as well as helping people learn how to enhance their businesses. The training sessions will include livestock, innovations and irrigation.


#UgandaToday

____________________________________

9:38am

On this day 42 years ago


TODAY IN HISTORY

On February 14, 1977, President Idi Amin announced that plot to assassinate him & stage a coup with Chinese-type weapons smuggled in from Tz had been uncovered. He said the weapons were found at the home of Anglican Archbishop Janani Luwum in K'la. pic.twitter.com/ZBcop9XNet

— New Vision UGANDA (@newvisionwire) February 14, 2019
#UgandaToday

____________________________________

9:25am

Special Parliament sitting for Bamwoze


Parliament will this afternoon hold a special sitting to pay tribute to the late Cyprian Kikuni Bamwoze, the former Bishop of Busoga Diocese.

He died Monday morning at the Uganda Cancer Institute after a long battle with cancer. He was diagnosed with leukemia in August 2017 and has since been in and out of hospital.

Bamwoze retired in 1998 and was succeeded by Dr. Michael Kyomya.



#UgandaToday

____________________________________

9:12am

Museveni hosts Jewish representatives


President Yoweri Museveni has met and held a discussion with a group of representatives from 53 Jewish organisations based in the US.

"I told them Uganda's position on the Middle East is shaped by the Bible, which places both Israel and Palestine in the that part of the world. Therefore, we cannot align with a version of history that excludes either of them. Our African civilization, based on symbiotic relations amidst a lot of diversity in tribal practices even within a country's boundaries like Uganda, is a good model that should be emulated in other parts of the world to enhance peace," he said after the meeting at State House, Entebbe.

To the group, Museveni talked investment opportunities in Uganda and also emphasized agro-processing, mineral processing, high level manufacturing and specialized services - particularly in medicine and tourism.


#UgandaToday

____________________________________

9:03am

Senior Five selection starts

The selection exercise for Senior Five students is beginning today at the Uganda Manufacturers' Association (UMA) grounds at Lugogo, Kampala.

It will be conducted today and tomorrow - Friday.
#UgandaToday

____________________________________

8:47am


Valentine's Day: Get involved ❤️


Shower some love to your loved one.


❤️ HAPPY VALENTINE'S DAY ❤️ !

✍️ Leave a message for your loved one 🥰, could be your mother, father, sister, brother, fiancee, wife, husband...💕
TAG them too!
💓 Let's celebrate love 💓 !https://t.co/DEfGg58cXB pic.twitter.com/GFif3s8tnI

— New Vision UGANDA (@newvisionwire) February 14, 2019
#UgandaToday

____________________________________

8:43am


Celebrating work in a special way





Ahead of Valentine's Day, Kiwatule Rotary Club awarded Mary Mutungi, the proprietor of Quality Supermarket, with a vocational award for her contribution in employing hundreds of people.

A red cake was cut and roses given to guests at Kabira Country Club.


#UgandaToday

____________________________________

8:27am


HARVEST MONEY EXPO: One day to go!





#HarvestMONEYexpo FREE TRAINING SESSIONS

- "UNDERSTANDING LOCAL & REGIONAL MARKETS IN EAST AFRICA" by Wilfred Thembo

- "SELLING AGRICULTURAL PRODUCE TO INTERNATIONAL MARKETS" by @pbusharizi

- "OPPORTUNITIES IN THE OIL & GAS SECTOR FOR FARMERS" by @rkabushenga#VisionGroup pic.twitter.com/PLHjGIYQC9

— Vision Group Uganda (@VisionGrp) February 13, 2019
#UgandaToday

____________________________________

8:15am


Israeli tourists here for four-day visit


New Vision's David Lumu:

At least 250 tourists from Israel have jetted into Uganda for a four-day visit, a move officials say will boost the tourism sector in the country.

The tourists were invited by President Yoweri Museveni.

Upon arrival at Entebbe, the excited visitors, who flew in Wednesday at 2pm local time, toured the control tower at the Old Airport, a monumental building whose significance dates back to 1976, when Israel commandos raided the airport to rescue hostages that were hijacked by Palestine terrorists.


The team is expected to tour the Source of the Nile in Jinja district and Murchison Falls Game Park in Pakwach district.

It was the first time for Israel's national carrier, Israel Airlines, to land in Uganda since 1976.

Yali Yativ, who headed the delegation, told New Vision that their plans for the Israel Airlines is to at least make over six direct flights to Entebbe to boost tourism and cement the good relations between Uganda and Israel.

The government's target is to at least have four million tourists visiting Uganda by 2020.

In July 2016, Israeli Prime Minister Benjamin Netanyahu visited Uganda and held bilateral talks with Museveni on a wide range of issues.
#UgandaToday

____________________________________

8:00am

RAS TOON

OK, let's get back to Uganda - and today's cartoon is on the 'men of God'.

A Police report has implicated several top city pastors in heinous crimes, including ritual murders, rape and defilement.


#UgandaToday

____________________________________

7:54am


Protesters vow to push on with Sudan 'uprising'


Around the continent


Sudanese campaigners spearheading demonstrations against President Omar al-Bashir's iron-fisted rule vowed Wednesday to press on with their protests until the regime is overthrown.

Deadly protests have rocked Sudan since December, with protesters calling for an end to Bashir's three decades in power.

In its first news conference since demonstrations erupted on December 19, the Sudanese Professionals Association (SPA) and its allies ruled out negotiations with Bashir's government.

"This regime has to go. This is our goal," said Mohamed Yusuf, a spokesman for the SPA, an umbrella group of unions for doctors, engineers and teachers.

"There is no way of holding any dialogue with this regime," he told reporters at the offices of Umma, Sudan's main opposition party, as supporters chanted anti-government slogans outside.

The Umma Party, which has thrown its weight behind the protests, also pledged to push on with the movement that has held nationwide rallies for almost two months.

"We will continue our uprising until this regime is overthrown," said Sara Najdullah, the party's general secretary.

"We also call on the international community and human rights groups to help us in investigating the crimes of this regime."


Officials say 30 people have died in protest-related violence so far, while Human Rights Watch says at least 51 people have been killed.

Yusuf called on political groups and activists to join the protest movement by signing the "Document for Freedom and Change".

The text outlines a post-Bashir plan including rebuilding Sudan's justice system and halting the African country's dire economic decline.

"There are no conditions for signing the document. It is open for everyone," he said.

Protests first erupted in the farming town of Atbara after a government decision to triple the price of bread.

But they quickly escalated into near-daily demonstrations across cities and towns that analysts say pose the greatest challenge to Bashir's rule since he took power in a 1989 Islamist backed coup.

Anger that had been mounting for years over growing economic hardship and deteriorating living conditions has boiled over onto the streets, under the slogan: "Freedom, peace, justice!"

Bashir has remained defiant, insisting the ballot box is the only way to change the government and vowing to stand for a third term in an election scheduled for next year.
#UgandaToday

____________________________________

7:43am


Death toll now 15 after Nigeria election stampede


Around the continent


Fifteen people were killed in a stampede at an election campaign rally by President Muhammadu Buhari in southern Nigeria, health officials said Wednesday.

In a separate incident on the campaign trial, jihadists in the northeast of the country attacked a convoy carrying a powerful state governor, killing four people.

The deaths are the latest to overshadow Saturday's elections, in which Buhari is seeking a second, four-year term of office.

Kem-Daniel Elebiga, spokesman for the University of Port Harcourt Teaching Hospital, said "a total of 15 bodies were brought in" on Tuesday.

Three were men and the rest women, he added.

Twelve injured people were also brought in, nine of whom remained in hospital Wednesday. "They are all responding well to treatment," said Elebiga.


Police in Rivers state, of which Port Harcourt is the capital, earlier gave a toll of four dead and four injured, while Buhari's office said only that "several" people lost their lives.

Conflicting death tolls are not unusual in Nigeria, although the authorities often provide lower numbers.

Local media and eyewitnesses said the stampede happened when panic broke out at the end of a rally held in the city's Adokiye Amiesimaka Stadium.

Crowds tried to force their way through a locked exit.

"Those from behind were pushing and putting pressure on those in front, leading to some persons falling on the ground and being trampled upon," said journalist Egufe Yafugborhi, of the Vanguard newspaper.

Blood-stained clothes, discarded shoes, and belongings remained strewn at the site Wednesday.
#UgandaToday

____________________________________

7:35am


Elusive 'black panther' alive and well in Kenya


Around the continent:

(*Some of you have asked that you would love to also get snippets of what's going on around the continent. I hear you.)

Whispers of sightings of the elusive black leopard have long swirled around central Kenya, and scientists have now confirmed its presence there with a series of rare images taken by camera traps.

The images were captured by researchers from the San Diego Zoo who have been studying leopards in the Loisaba wildlife conservancy, as well as an independent photographer working in the region at the same time.

"We are very excited to hear that these camera traps have captured rare footage of melanistic leopards, otherwise known as black panthers!" the conservancy said on its website.


Melanism is a genetic mutation like albinism, except it leads to a surplus in pigment that turns the fur or skin of an animal black.

The study, led by San Diego Zoo researcher Nicholas Pilfold and published in the African Journal of Ecology in January, said the photos represent the first scientific confirmation in a century of the black leopard's presence in Africa.

The last confirmed report was a photograph taken in Addis Ababa in 1909 that is stored in the Museum of National History in the United States.

In Kenya, a captive black leopard was photographed in 2013 while other images taken from a helicopter circulated in 2018. However, the latest photos represent the first recorded scientific evidence.

Any big cat species with melanism is referred to as a black panther, such as black leopards in Asia and Africa and black jaguars in the Americas.

According to Pilford, only 11 percent of leopards across the globe are black.

Pilford's team worked in parallel with photographer Will Burrard-Lucas, who used his personally-designed Camtraptions camera trap to capture images of the same leopards in the region, and released them alongside the study.

Black leopards are well documented in South East Asia, but little is known about their presence in Africa.




#UgandaToday

____________________________________

7:30am


Valentine's Day around the world ❤️


This is a sort of celebration that impresses smiles onto people's faces and warms even the coldest of hearts.


Take for example, this lady, who is all smiles woman smiles as she holds in the lobby of the Muritala Mohammed 2 Airport in Lagos on the eve of Valentine's Day. As Nigeria gears up to elect new leaders, election fever has caught up with sales of gift items to celebrate Valentine's Day as supermarkets and shops stockpiled with flowers and cards across the country are recording low sales ahead of February 16's presidentional poll.


In Pakistan, these vendors prepare a heart-shaped flower bouquet at a roadside stall in Lahore.


In India, shoppers check out Valentine's Day gifts at a gift shop in Amritsar.


This vendor carries roses for sale along a street on the eve of Valentine's Day in Manila, Philippines' capital.


In Syria's capital Damascus, this man cycles past a giant Valentine's Day teddy bear along a street showing posters depicting Syrian President Bashar al-Assad in the town of Jaramana, about 3 kilometres south of the capital.


Happy Valentine's Day everyone :)


#UgandaToday

____________________________________


7:10am


Let's celebrate love ❤️


Roses are red,
Violets are blue,
Ugandans are in love,
And so should you.

Well, for starters, today is not a public holiday. But it remains a day of great significance in many ways than one - in the cultural, religious, and commercial context. It is a celebration of romance and romantic love in many parts of the globe.


#UgandaToday

____________________________________

7:00am


Good morning


Hoping you are well. I will start off today's live page with a quote - which, as you may have guessed already, is in line with what we are celebrating today.

"True love comes quietly, without banners or flashing lights. If you hear bells, get your ears checked." - Erich Segal