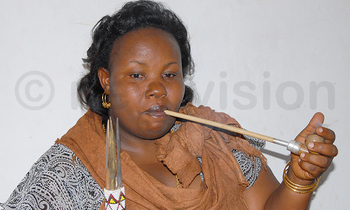 Smoke and heat swirled around Kigo playground on Entebbe Road on Saturday as the new leader of Uganda Traditional Healers was being installed.
The colourful ceremony was attended by among others, Dada Budhagali, who had at one time held the government at ransom when he refused to vacate a site where the new dam was supposed to be constructed.
The new leader, Kezia Kulanama alias Ssenga Kulanama, who was installed by Budhagali and Jjumba Aligaweesa, is pumped to play her role as far as traditional medicine is concerned.
"I am the new president general and I have not come to fight anyone. Some media houses have made it look like I am fighting Maama Fiina the one who has been calling herself the president, but that is not true," she said.
"Maama Fiina should come and we work together, she should even be proud of me because now we have a president who is recognised. For long, she has been masquerading as the president, but, I do not blame her because man eats where he works. Personally, I have no problem with her because she is my daughter," added Kulanama.
She also noted that her first assignment is to see that herbalists and traditional healers in the country get permanent addresses.
"For long we have been minimised because we seemed to be disorganised. Now that I have acquired the office, we are going to put up serious buildings in Kitende, along Entebbe Road. I am also going to fight child sacrifice done by fake traditional healers and I also want to let my fans know that I have not legally divorced my husband but we have spiritually separated because Islam is against witchcraft," she noted.
Kulanama's installation has not gone well with the former leader Sophia Namutebi alias Maama Fiina who has refused to retire despite demand from the people she has led. She claims that the new leader has no spiritual powers.
"What is she going to do when she has no mandwa (powers)? I was elected as the president in 2004 and I will retire when I want. Kulanama claims she has over 9 groups of traditional healers that she governs, but I have over 30 groups of traditional healers who believe in me. I am still the leader because I can even call President Yoweri Museveni directly," she said.
This comes after Parliament passed a bill last week on Tuesday to govern traditional healers.
According to the new law titled, the Traditional and Complementary Act, 2019, no person in Uganda will be qualified for registration as a herbalist, traditional or complementary medicine practitioner unless they acquire relevant training, knowledge and skill recognised by the Government.
The law interprets traditional medicine as knowledge, skills, and practices based on theories and experiences indigenous to different cultures, whether explicable or not, used to maintain health as well as to prevent, diagnose, improve or treat physical or mental illness while complementary medicine refers to a set of health care practices that are usually not part of that country's own tradition or conventional medicine.
Once operationalised, the law will also influence research and development to encompass protection, cultivation, propagation and conservation of medicinal plants.