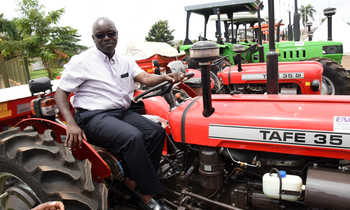 Vision Group CEO Robert Kabushenga getting a feel of one of the tractors assembled at Namboole ahead of the 2019 Harvest Money Expo due this weekend. This was on Tuesday February 12,2019. Photo by Mpalanyi Ssentongo
HARVEST MONEY EXPO NAMBOOLE AGRICULTURE
Do you need information on how you can export products to neighbouring countries?
How about exporting to Europe, US, the Arab World and China? That could take a lot in terms of standards and money, but how about the local market in Uganda? Are you ready to supply the oil companies in Uganda?

All this will be answered later this week during the Harvest Money expo themed from the farm to the market, is being organised by Vision Group. The three day expo will take place at Namboole near Kampala along Jinja Road starting on Friday 15th.
Preparations for the expo in high gear
"What sells where? Where are the big markets?" Kabushenga pointed out. "The show goers will be able to know where to find the markets for poultry products within Uganda and the regional market," according to Robert Kabushenga, the Chief Executive Officer, Vision Group.

He added: "We have been exporting poultry products to Burundi, Rwanda and Tanzania. In some cases, Ugandan traders have been selling to as far as DR Congo, South Sudan and Central Africa Republic? What do we need to do to export products to these markets?" Kabushenga asked.

Kabushenga was speaking on Tuesday at a press conference organized at the headquarters of Vision Group at First Street in Industrial Area, Kampala.

Every day between 5:30pm and 7:00pm, Vision Group will make the experts available to highlight the standards and how you have to penetrate the markets," according to Kabushenga. "The farmers will know how you are supposed to look after cattle for export of goats for the export or poultry," he said.
Workers erecting tents at Namboole
There will be no payment of fees beyond the entrance fees for people to attend the sessions on the markets," according to Kabushenga. "The sessions on markets will be different from the training sessions where the show goers will have to pay on top of payment of entrance fees," said Kabushenga.

On Saturday, there will be information on how you can export to the European markets, US, the Arab World and China. "We export a lot of Matooke and chili to Europe and organic crops to China. "Why are you not exporting to these markets," wondered Kabushenga.
All is set for the expo
Oil will present big opportunities for the people engaged in agriculture, according to Kabushenga. However, it is important to know the standards and how to get organized to supply the oil products with food products.

"We will have the Petroleum Oil Authority together with the oil partners. They will tell us if you want to supply, what you need to do."