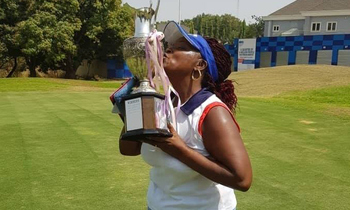 Eva Magala has turned Nigeria into her fortress after she won the 21st IBB Nigeria Ladies Open played at the IBB International Golf and Country Club in Abuja on Sunday.
The national ladies team player, who is also the Uganda Ladies Golf Union president, carded 244 gross over 54 holes to edge Nigeria's Rachael Danjuma to the title by four strokes.
Playing off handicap 4, Magala opened her round with 82 gross, before an identical nine-over-par 81 in each of the last two rounds to win her second title from Nigeria in about three months.
In November last year, Magala won the Nigeria Ladies Open at the Ibom Hotels and Golf Resort in Ibom State, Lagos, again beating Danjuma by a stroke. Irene Nakalembe and Gloria Mbaguta who made the November trip finished fourth and fifth respectively.
"This day is a day that the Lord has made. I'm glad about it. I would like to thank God for not only giving me back my life after surgery on December 27 but also this big win today,"
"Lastly, I thank my teammates whom I traveled with to Nigeria especially my friend and (doctor) Hon. Sarah Babirye, Hon. Evelyn Asiimwe, Lady Captain Anne Abeja, Vice Lady captain Charity Opolot, Lady president LGAN Ekanem, IBB members, Caddie Henry, well-wishers and lastly my husband and family for the support," Magala stated on her social media page.
Wilfred Amina (250 gross), Sheila Ebunilo (289) and Fatima Ahmadu (290), finished third, fourth and fifth respectively.
As Magala toasted to her win in Nigeria, another lady golfer Martha Babirye was also making headlines in Kenya as she claimed the Kitale Ladies Open in Kenya.
Babirye returned 80 gross to win on her first travel this year and would now like to play more foreign tournaments in her pursuit of winning the Uganda Open and playing better as a single handicapper.
"I will aim to compete for more in tournaments around East Africa to get some competition out there," Babirye who traveled with over ten other Ugandan ladies said.