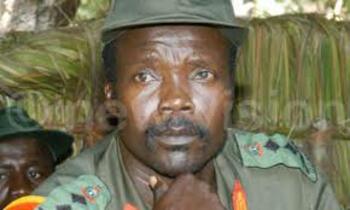 PIC: LRA rebel leader Joseph Kony
LAMWO- Deadly explosive remnants of war still continue to endanger the civilians in several districts of northern Uganda after an end to the two-decade armed conflict between the Lord's Resistance Army (LRA) and government in 2005.
The fragments of war according to the army covers military weapons and ammunitions like bombs, rockets, artillery shells, mortars, grenades among others that were used by the fighters, but failed to detonate as intended.
In May 2006, The United Nations Development Programme (UNDP) handed over an assortment of de-mining equipment and vehicles to the National Mine Action Programme in the Office of the Prime Minister (OPM).
The donation of equipment and training of over 60 de-miners marked the beginning of the commitment of the partnership between UNDP and Uganda government in clearing land mines and other unexploded ordinances in the country.
Since 2006, National Mine Action Programme in collaboration with Danish Demining Group, the humanitarian mine action unit of the Danish Refugee Council, recovered and destroyed over 7,500 anti-personnel and anti-tank mines.
The residents of Ayuu-Alali parish in Palabek Kal sub-county, Lamwo district are gripped with fear following the discovery of an explosive bomb in the area after children discovered the rocket-propelled grenade (RPG), a shoulder-fired anti-tank weapon warhead
Emmanuel Oringa, the area LC1 chairperson said the explosive warhead was discovered by teenage hunters.
Geoffrey Nyeko, the Palabek Kal sub-county LC3 chairperson confirmed the incident and said the matter was referred to the office of the Sub-County's Internal Security Office who alerted police and removed the device.
According to Nyeko, several such grim leftovers from the war between government forces and LRA rebels have been discovered in his area.
He said remnants of war continue to devastate people despite an end to the LRA rebellion in 2005.
Maj. Caesar Olweny, the 4th Division Infantry Battalion Army Spokesperson says the leftovers of war may take over five decades to clear.
He said UPDF has competent de-mining experts from the Engineering Brigade, However, he reveals that their work is hampered by little or no information on the location of the ordinances that have been used on an ad hoc basis.
"The prevalence of mines and explosive fragments of war must not be ignored as their presence leads to significant health, social, environmental and economic hazards", Olweny explained.
James Nabinson Kidega, the Lamwo Resident District Commissioner said the community discovered these weapons are usually positioned in villages, fields, near roads, around water sources like wells, institutions like schools and health facilities.
He said the community and local leaders should liaise with UPDF so that unexploded ordnance can be safely removed or detonated.
"Ongoing community sensitisation on issues of unexploded ordnance is required to remind people of the situation and way forward. When guns are silent does not necessarily mean peace has been fully established", Kidega remarked.