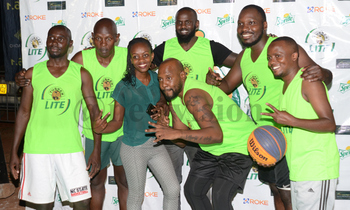 The Tusker Lite Friday Night Lights basketball tournament is headed to the business end following the quarterfinal action at the Panamera bar parking lot on Friday.
The eighth edition has not been as electrifying as past editions in the past few months but it is beginning to heat up as more fans trek to Naguru not only to watch the action but also win cash and goodies.
On Friday Alain Kaze walked away with a flat-screen TV for not doing much but making a reverse free throw and winning just like that. More prizes and cash await at the semifinals.
Action between Tusker Lite team and NXT Radio during the quarterfinals of the Friday Night Lights at Panamera
This was the climax of other 'shoot for cash' challenges between team games that have been held since the new version 3x3 of the event was launched last November.
Record winners of the event, Team Ikong will be looking to add more cash in their pockets after they eliminated Team Fahmy 17-14 in the quarterfinals on Friday.
Team Madol were also 21-16 winners over Team Enabu while Team Flirsh and Team Zama who beat Team Soro 11-9 will also be hoping to make further strides in the event.