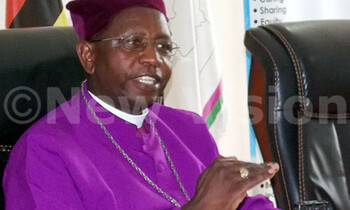 TOURISM KIWANDA CHURCH

The archbishop of the Church of Uganda, Stanley Ntagali, has condemned the proposed Miss Curvy Uganda competition. He says the pageant undermines the dignity of women in Uganda.

"As Archbishop and on behalf of the entire Church of Uganda, we condemn the proposed Miss Curvy Uganda beauty pageant and urge the sponsors and partners to cancel it," read a statement released by the office of the archbishop.

"It undermines the dignity of women and all that we as a church have worked for to advance girl-child education and opportunities for women to take their part in contributing fully to our national and family development," he added.

He says it is a disgusting display of exploitation and brings shame upon the families and the country.

He says to present such a programme, the government is promoting trafficking to increase tourism and is demonstrating how low the country has fallen.

"We cannot accept it and we insist that It be cancelled," he added.

The archbishop's message comes at a time when civil society organisations are also condemning the pageant, which the tourism minister Geoffrey Kiwanda launched on Tuesday.

Addressing a press conference on Wednesday, the civil society and MPs led by former leader of opposition in Parliament Winnie Kiiza, said it was demeaning to portray women as sex objects and tourist attractions. They called for Kiwanda's resignation.

However, Kiwanda has come out to say the pageant is not being promoted by the government, but by a private organisation. Addressing the media on Thursday morning, Kiwanda says the government just partnered with the organisation to promote tourism.