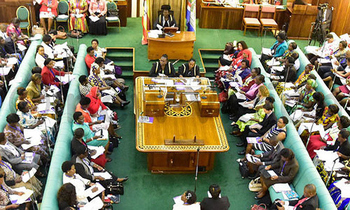 Speaker of Parliament, Rebecca Kadaga has decided to set up a parliamentary ad hoc committee to investigate the simmering land wrangle in Apaa which has resulted into displacement of hundreds of people in parts of Amuru and Adjuman district.

Kadaga's decision followed a statement by the Government on the issue of Apaa which threatened to spawn a heated and divisive debate, as has been the case previously, between lawmakers representing Acholi and Madi communities.

In a statement on behalf of Government, Obiga Kania, the state minister for internal affairs gave a chronology of the conflict which he attributed to failure by some politicians to respect the demarcation between Adjumani and Moyo districts.

"The situation is calm but I appeal to political leaders to avoid making inflammatory statements on this matter," Kania said, spawning a raucous response from lawmakers from the two communities.

Minister of state for defense, Bright Rwamirama, to chorus of disapproval from Olanyah Gilbert and Leader of Opposition, Betty Aol Ochan, said a battalion had been deployed in the area to secure the peace.

With Kadaga realising that opening debate over the issue would only result into recrimination between MPs from the two communities, she decided to constitute a committee to investigate the matter.

The protracted Apaa land conflict has divided Adjuman and Acholi leaders resulting into violent confrontations between the two communities.

Last year, Government set up a committee composed of leaders from the two communities headed by Prime Minister, Dr. Ruhakana Rugunda to find a lasting solution to the conflict.

However, to-date, a solution has proved elusive resulting into bouts of violence between the Madi of Adjumani and the Acholi in Amuru over which district the land in contestation lies. Ends.