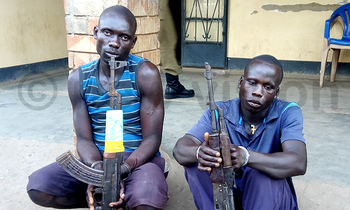 The police in Arua recovered two guns on two separate occasions in a week.
The first gun was recovered on Monday and the second gun on Wednesday.
Two suspects have been arrested in relation to the recovered guns. The first gun recovered was an SMG rifle registration number 562812607 with 24 rounds of ammunition, while the second gun, also an SMG, registration number 83LU2340 containing 16 rounds of ammunition.
Robert Ojobile, 20, a resident of Odrijo village, Onayi parish in Aiivu sub-county, was arrested on Wednesday while Steven Ezama was arrested on Monday. The two are detained at Arua Central Police Station.
Josephine Angucia, the Police spokesperson for West Nile region confirmed the case of the recovered guns to New Vision.
Angucia said that following intensive interrogation, Ezama gave information leading to the recovery of the second gun from Ojobile.
She said both guns were recovered as a result of intelligent indicating that Ezama was looking to sell off the guns.
Since December 2018, Police in Arua has so far recovered five guns.