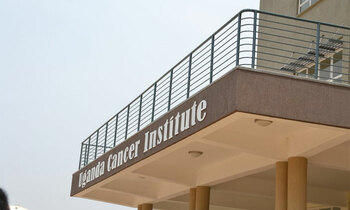 HEALTH

The Minister of State for Primary Health Care, Joyce Moriku Kaducu has revealed that over 21,000 cancer deaths were registered by the Kampala Cancer Registry in 2018.

Globally, approximately, 9.6 million people succumb to cancer each year, a figure higher than that of people who succumb to HIV/AIDS, Malaria and Tuberculosis combined.

But according to current evidence, 30% to 50% of cancer deaths could be prevented by modifying or avoiding key risk factors such as tobacco use, excessive alcohol consumption, physical inactivity, unhealthy diets and obesity.

"The Ministry of Health has prioritized cancer control and is committed to ensuring that the communities are educated on how to prevent cancer and enabling access to cancer screening and treatment services including palliative care is available everywhere in Uganda," Joyce Moriku Kaducu said.

Kaducu further revealed that by March 2019, Uganda Cancer Institute will have a third radiotherapy machine.

The Uganda Cancer Institute has often been castigated for shortage of medicine but Kaducu assured that the institute's medicine supply is now at almost 100%.

On Monday 4th January, 2018, Uganda will join the rest of the world to commemorate world cancer day under the theme 'I AM and I WILL' resonate, inspire change and mobilize action against Cancer both nationally and globally.

Kaducu noted that this year's theme is an empowering call-to-action urging for personal commitment and represents the power of individual action taken now to impact the present and future cancer prevention efforts.

"Whoever you are, you have the power to reduce the impact of cancer for yourself, the people you love and for the world. It's time to make a personal commitment," she urged.

This year's activities will include the Zumba dance, free cancer screening and care on Sunday 3rd February 2019 and Monday 4th February 2019 at KCCA grounds, Lugogo.

Furthermore, the Ministry of Health with support from African Development Bank is training an additional 208 cancer treatment and care specialists as well as researchers.

"Uganda Cancer Institute has also trained 500 health workers from district Local Governments and regional referral hospitals on how to educate communities about cancer and provide cancer screening services in the country," she said.

This financial year, 169 additional staff from Regional Referral Hospitals will be trained further in cancer screening and treatment. The government is also in the process of establishing Regional Cancer Centers in Gulu, Arua, Mbarara and Mbale.

Mbarara Regional Cancer Center is already operational, caring for over 20,000 cancer patients. Gulu Regional Cancer Center will open doors to people of the Acholi region in FY2019/2020.

Plans are underway to extend cancer awareness and screening services at every Health Center III in the country.