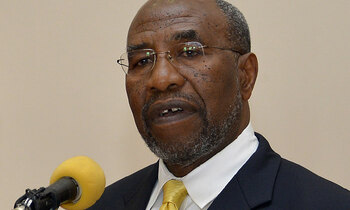 LANDSLIDE VICTIMS
BULAMBULI - Prime Minister Rugunda Ruhakana officially commissioned construction of 900 units for resettling Elgon landslide families in Bunambutye Sub-County, Bulambuli district.

Members of parliament from the affected districts were present together with the Minister for energy Irene Muloni, Disaster ministers Hilary Onek and Musa Echweru and some of the victims' relatives.

The construction of the 900 two bed-roomed units estimated to cost 32 billion shillings, is to be done by Uganda People's Defense Force (UPDF), Police, Prison engineering brigade with MLHUD performing the supervisory function as assigned by government.

In an interview with the New Vision, Rugunda revealed that more money to facilitate the construction has already been released and is now on the office of the prime minister's account.

"We expect them to complete the construction phase 101 units by the end of March. We have trust in UPDF engineering department because they have the capacity to do good work and in the time frame given," he said.

The resettlement plan, according to Rugunda, has 900 two bedroomed permanent houses, nursery and primary schools, one health center three, a market, recreation center, trading center and religious institution.

Rugunda further revealed that the resettlement programme is not only for Bududa victims, but also vulnerable people across the country.

Over 1000 families are to be relocated from landslide prone areas around Mt Elgon to Bunambutye land.

Disaster minister Hillary Onek said that the 900 housing units will be constructed in three phases; with each phase delivering 300 housing units.

"Total duration of construction is estimated at 20 months up to 30th July 2020 for completion of all 900units. The resettlement program is for ten years. Survey and mapping activities have been completed and constructions are progressing steadily," Onek said.

Bududa LC5 chairperson and other leaders that spoke during the commissioning hailed government for fulfilling its pledge, adding that institutions mandated to construct the houses should expedite the process so that families can be relocated before the rains start.