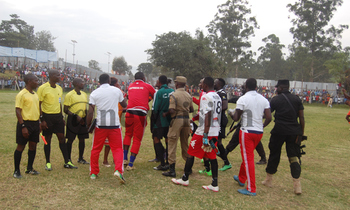 It took the intervention of heavily armed anti-riot Police to save referees from the errant Express FC players and officials who attacked them after the final whistle.
Express FC players on Tuesday evening protested a penalty kick that was awarded to Tooro United after Isaac Mutanga fouled Baker Bayala.
Referee Alex Muhabi pointed on the spot in the 90th minute and Simon Peter Sserunkuma scored from the spot kick.
When the final whistle was blown, some Express players stormed the playground and attempted to beat up match officials.
It took the intervention of the anti-riot police to calm down the situation and evacuate the officials from the playground.
Express head coach Kefa Kisala stormed the playground with his players and demanded an explanation from Muhabi as to why he had awarded the penalty kick.
"Am not happy with the decisions which were taken by the referee during the game. The penalty kick which was awarded was not guanine," Kisala said.
However, the match officials expressed concern over the indiscipline of Express FC players after the match which was played at Buhinga playground in Fort Portal municipality.
Rosebell Rwamuyamba, the match referee assessor said she will make her report which she will submit to the officials in charge of the Azam Uganda Premier League.
"Am going to report whatever has happened in Fort Portal but that indiscipline has to stop players attacking the referee in such way," Rwamuyamba said.