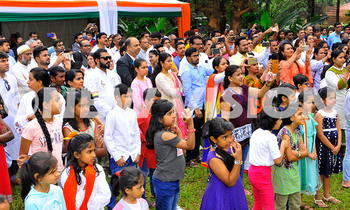 CULTURE|INDIA

KAMPALA - The Commissioner of India to Uganda, Shri Ravi Shankar has congratulated the Indian community in Uganda for keeping alive the tradition of Vasudhaiva Kutumbaskam culture.

"I'm delighted to welcome you at the High Commission on the occasion of the 70th anniversary for the Republic of India. This is a special day, especially those living away from India and cherish their bonds with their mother land," said Shankar.

Shankar was addressing the Indians who gathered at the Indian High Commission, Nakasero in Kampala to celebrate their independence.

He said the Prime Minister of India Shri Narenda Modi called upon the Indians to join hands to build a new India.

He eluded that that the roles of Indians in the diaspora is to keep alive the tradition of Vasudahiva Kutumbakam. He urged the Indian community to strengthen the capabilities and characteristics of their culture.

The occasion was crowned with Indian traditional dances, patriotic songs and traditional meals were served.