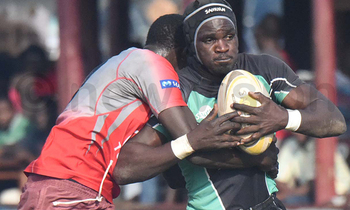 In the recent history of Uganda rugby's top flight League/Premiership we have never had a team lose more than twice and won it.
By that parameter, you can safely bet that this Premiership will be won by either the Hima Cement Heathens or Betway Kobs or the Stanbic Pirates.
Heathens in the lead
At the half mark of the Premiership, the 2016/17 Champions Heathens lead all with a massive 41 points out of a possible 45 and are unbeaten so far in this campaign.
The Kobs follow closely with 40 points and seem to best placed to topple the Heathens.
One loss to the Heathens or a draw will see the Kobs take the top slot. The Pirates' 33 points are a bit far off from the preseason predictions but they will need the Heathens and Kobs to drop crucial points in order for them to successfully defend the Premiership.
The Dusupay Warriors have lost their last 3 games but they are in the thick of things and are likely to deny some teams crucial points. They denied Heathens a bonus point last weekend.
At the bottom we have an all-out battle against relegation. The Walukuba Barbarians and the Rams both have 5 points and it will be interesting seeing how they try and escape relegation.
The Hippos are 3rd from last with 13 points one short of Shell Rimula Rhinos. The Toyota Buffaloes and Plascon Mongers are 5th and 6th respectively and will hopefully play better in the 2nd round and shake up things a bit.
Kobs' and Rugby Cranes' half back Ivan Kirabo has so far 55 points. He is followed by the Warriors' Joseph Oyet (49 points), Kobs' Adrian Kasito (41) and Hippos' Maxwell Ebong (40).
The Uganda Commonwealth Games and Uganda 7s Captain Michael Okorach leads the try scorers with 7 same as the Rugby Cranes vice-captain Justin Kimono. Adrian Kasito and Joseph Oyet have 6 tries apiece.
Pitates' Haruna Muhammed and Hippos' Dennis Etau have 5 each. The Heathens and Rhinos so far do not have any cards. No player has been awarded a red card yet. The Hippos and Rams each have 6 yellow cards.
They are followed by Warriors, Barbarians and Buffaloes with 4 apiece. Pirates has 3 and Kobs 1. The Second Round games started Friday with the Kyadondo derby where the Heathens hosted Buffaloes.
No easy games
The 2 sides from Jinja are travelling with the Barbarians being hosted at the Kings Park and Hippos will be at Legends to face Kobs.
The Mongers will host Rams in Entebbe while Rams visit the Rhinos at Legends. There are no easy games for anyone and there will be no favours offered by opponents.
It will be a matter of survival for the bottom teams while the leaders will aim not to drop any points.
The best team will emerge victorious and will earn the bragging rights for at least 12 months.