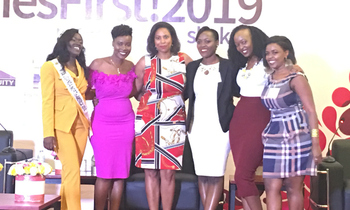 A new platform has been launched in Uganda to provide a global mentorship network for African Women.
The Diaspora African Women's Network (DAWN) was launched in Kampala at the Ladies First 2019 Summit for Women in Leadership organised by Miss Uganda North America.
Co-founders of the Ladies First Summit Julius Kabugu and Tibba Kabugu say DAWN is to uplift African women globally by creating opportunities for business collaborations.
This is in addition to creating opportunities for mentorships and new markets across borders.
A 2015 Study by KPMG (one of the world's leading professional services firms) on Women's Leadership found that even though much has been gained and accomplished for aspiring women leaders, many have been also been sidetracked by a lack of confidence, encouragement, connections or opportunities from childhood and later.
It says to empower more women to reach the highest ranks, the focus must be on socializing leadership early in life, modeling leadership and building confidence through role models and networking.
This is in addition to providing or enhancing corporate development programs that move more women forward.
Kabugu says the new network though not exclusive to women; its purpose is to uplift African women globally.
"We hope for a new era of successful innovations and businesses led by African women," Julius Kabugu disclosed upon the launch of DAWN in Kampala.