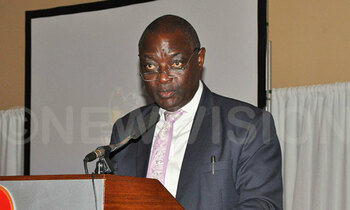 The minister of agriculture, animal industry and fisheries Vincent Ssempijja said the best form to manage the weed is prevention by avoiding the ways of its dispersal.Photo/File

AGRICULTURE

KAMPALA - Golden dodder, a weed thought to be native to North America (Canada, USA and Mexico) and parts of South America and has recently spread to Africa including Uganda.

Vincent Ssempijja, the minister of agriculture, animal industry and fisheries, said the weed which has a very distinct appearance, consisting mainly of leafless, smooth, yellow or orange twining stems and tendrils, with inconspicuous scales in the place of leaves, has currently spread to nearly all regions of the country.

In a statement he presented to Parliament, Ssempijja explained that the weed's yellow stems produce tendrils, which form coils and a specialized root-like sucker that penetrates other plants (hosts) and obtains water and nutrients from it.

"The root and shoot below this initial attachment to the host plant soon die, Ieaving no direct contact with the soil," he warned.

The dodder seeds are dispersed by wind, water, birds, other animals and by man on machines and planting material contaminated by dodder seeds.

The best form to manage the weed is prevention by avoiding the ways of its dispersal.

Farmers are advised to avoid throwing dodder plant parts onto other vegetation, practice crop rotation with a three to four year cycle of unsusceptible crops such as wheat, maize, sorghum, millet, grasses, napier and lilies, collect dodder plant fragments thrown on other vegetation and destroy them by burying them 60cm deep, wash pruning equipment with water before moving from infested to clean areas after which the water is disposed of into a pit 60cm deep.

Additionally, farmers should remove dodder infestation by hand before on set of seed and then destroy by composting.

"If only a few branches are affected, prune infected portion of the host plant below the point of attachment," the minister said.

The weed can also be sprayed using 2, 4-D Amine 72ogll SL or Glyphosate 360 g/1 SL and this should be repeated after 30 days.

"This must be handled with care since it may affect the host plant. The most effective way to manage dodder is mechanical removal and let to dry, then burnt or buried deep - over 60cm to avoid regrowth," he advised.

So far, fact sheets have been developed and disseminated to advise the public on proper management of the weed and sensitization using the various media channels is ongoing.