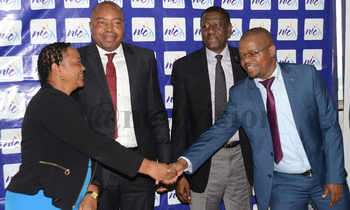 National Insurance Corporation (NIC) has unveiled an improved sponsorship package for FUFA and the Cranes.

The over sh2.4bn Personal Accident insurance cover will cover all players, coaching staff and their team doctors against death and injuries resulting into permanent disability sustained while on official football engagements.

The four-year deal also covers incidences during training as well as travels to and from matches and burial arrangements in case death occurs.

The insurance cover for the Cranes is worth sh660m, the FUFA Junior League sh800m while the FUFA Drum tournament insurance cover is worth sh960m. NIC will in addition give FUFA sh10m cash towards the FUFA Awards and also provide a generator worth sh66m to FUFA's new office extensions at the FUFA house in Mengo.

This is the the third generator that the federation is receiving from NIC, having received one for the Njeru Technical Center and the FUFA house.

NIC Managing Director Bayo Foloyan, in the company of Company Secretary Elias Edu and Assistant Director Marketing Jocelyn Uchanda unveiled the sponsorship Thursday during a press conference attended by FUFA president Moses Magogo and Marketing and Communications Committee Chairman Rogers Byamukama at NIC offices.

Bayo said the sponsorship was an expression to the cooperation that has continued to exist between NIC and FUFA.

"It's a relationship that continues to blossom and spans over ten years and it is beginning to show the rewards and fruitiness in terms of the achievements that are coming in and these are achievements that make us very proud of FUFA and our relationship," Bayo said.

"Our vision is to use sports as a mode of development for our youth and give them an opportunity in life, to be able to use sports as spring board to livelihood, to developing good character and inviting them to develop characters that we will all be proud of," Bayo stated.

Edu thanked FUFA for the good administration of the game and for the improvement of the Cranes.

"We believe with continued support to FUFA we know more will be achieved. Our CSR initiative is geared towards sports development because sport unites the country. Ours has been a faithful relationship and many people have benefited from our insurance sponsorship and we hope with this it is going to be a bumper support for football development in the country," Edu stated.

Magogo called the sponsorship another celebration of the game and called it a vote of confidence from the sponsors.

"We are very happy and proud and wish to assure not only the sponsors but the entire country that we shall work hard to ensure we reach even greater heights. We believe in building a sports industry that provides an opportunity to young people in form of employment and devolping their talents," Magogo stated.

"The new package is a more exciting because there has been an addition to cater for the junior players. When we cover the youngsters it's a strategy to ensure juniors are treated properly to ensure a bright future,"

He encouraged all fans in the country to identify with NIC and companies that have identified with football and said it was FUFA's dream to ensure the Cranes even reach greater heights by qualifying for even bigger tournaments.