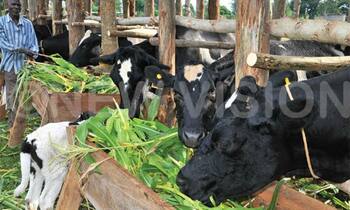 TRAINING AGRICULTURE HARVEST MONEY

If you are a livestock farmer, you must not miss the training that will be facilitated by the National Animal Genetic Resources Centre (NAGRC) at the Harvest Money Expo, which will run from February 15 to February 17.

This is because NAGRIC is the 'mother' of all livestock breeding research in Uganda and, hence, offers valuable services, some of them free of charge.

Dr. Charles Lagu, the NAGRIC executive director, will lead the training team that will also include Dr. Benda Katali, Sharon Giramya, Dr Patrick Mawadri and Betty Bikaba.

The team will also talk about goats, poultry and pigs. The National Animal Genetic Resources Centre and Data Bank (NAGRC&DB) was established by the Animal Breeding Act, 2001. It is one of the statutory semi-autonomous bodies of the Agriculture ministry.

NAGRC&DB's core mandate is commercialization for the production, conservation and promotion of efficient and effective delivery of animal genetic resources in Uganda.

"The overall goal is to contribute to the transformation of the agricultural sector by enhancing sustainable livestock productivity through conservation and improvement of animal genetic resources," Lagu says.

He says these goals can only be achieved by working with the population. In order to improve production and productivity of livestock in Uganda, NAGRC&DB has embarked on a community-based animal breeding outreach programme, which will revolutionise livestock farming in Uganda.

"Under the programme, farmers in the various agro-ecological zones of Uganda are supported with high-quality animal genetics that respond to market needs," Lagu says.

He says farmers who will attend the expo will learn more about how to benefit from this arrangement. The approach is aimed at generating crossbred beef and dairy animals with enriched genetic merit, such as attainment of a slaughter weight of over 350kg at 18 months for beef and production capacity of over 30kg of milk per cow per day for dairy breeds.