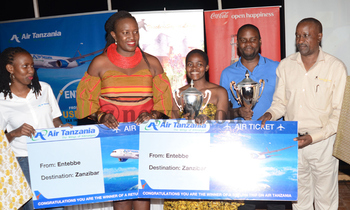 Victoria Ngabire and Dickson Agaba were the toast of the evening as the annual Cross Country Golf Tournament ended at Kitante on Saturday.
Playing off handicap 36, Ngabire, 18, who is set to join the university, returned 57nett to emerge overall winner of the one-day ladies section organised tournament. Dickson Agaba's 54nett also propelled him to the top of the men's competition, winning himself an air ticket to Zanzibar courtesy of Air Tanzania.
Just like Agaba, Ngabire will also enjoy the flight to the 'Spice Island' on top of a weekend for two each at the Trackers Safari Lodge in Bwindi.
"I am very excited and I would like to thank the Uganda Golf Club, today's tournament sponsors and to the Uganda Ladies Golf Union for nurturing me as their daughter. Not that I'm the best but today was just my day," Ngabire said.
Pierre Escedu (left) receives the Groupo A winners trophy from Aero Link Country Manager Anthony Njoroge at Kitante, January 20, 2019. PHOTO: Michael Nsubuga
"I had a good front nine which saved the day but I also played with a good team that kept on pushing me," Agaba" stated.
Tracker Safari Lodges' Moses Turyatemba urged the golfers to embrace local tourism and promised a package for the professionals in the next edition of the event.
The one-day tournament was sponsored by Air Tanzania, Aero Link, Trackers Safari Lodge, Coca Cola, Kenya Ports Authority, Nationwide Group, and Christex Garments.
Overall winners
Ladies: Victoria Ngabire 57nett
Men: Dickson Agaba 54nett
Group A-Ladies
Evelyn Asiimwe 64
Bridget Nakamoga 65c/b
Katy Kabenge 65
Group B
Anne Abeja 59
Wendy Angudeyo 64
Gertrude Kityo 65
Group C
Soon Yeon Hong 57
Na Miae 61
Gladys Muchai 67
Men-Group A
Pierre Escedu 57
Onyango Matata 61
Stefan Krisch 61
Group B
Moses Turyatemba 58c/b
Sam Opolot 58c/b
Silver Rugamba 58
Group C
Tusher Doshi 56
James Sekajugo 59
Mashru Tushar 60
Nearest to the pin
Grace Njeri
Nobert Kagoro
Longest Drive
Sam Opolot
Martha Babirye
Guest winners
Tony Mulinde
Josephine Babirye