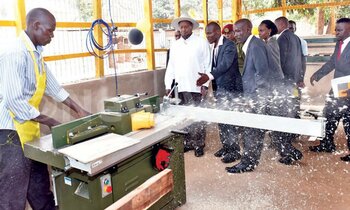 President Yoweri Museveni visiting a carpentry workshop. Some MPs are arguing that vocational skills are more important than A'level
BUDGET OPPOSITION A'LEVEL
During the discussion on the budget frame work paper for financial years 2019/2020-2023/2024, opposition MPs proposed that Advanced Level (A'level) should be scrapped, saying it is unnecessary.

They proposed that it be replaced by vocational and tertiary education.

Through their leader in Parliament, Betty Aol Ocan, they said the education system should adopt a 7-4-2-3 model, where one spends seven years in primary school, four years in secondary school, two years at elementary level for one's area of interest and then three years for a degree or diploma award.

"The education system inherited from the colonial times that consisted of three stages of seven years in primary, six years in secondary and three years at university was tailored to produce clerical officers, not industrialists," reads the report.

The Opposition said if the new system is adopted and implemented, more skilled and efficient manpower for the labour force will be produced.

Their proposal attracted a heated debate from the members of the public, especially using the social media networks:

Below are the reactions:

Ssalongo Gwembuga: Kituuufu nnyo (That's correct), I studied European History and Divinity, I am neither employed in church or France, wastage of time and wastage of young experience time.

Warom Denis: So many people have totally misunderstood this thing, the idea is that A' level be scrapped off so that after your S.4, one takes a vocational course that starts shaping them right before joining the University for more specialised training. This would eradicate the saga of spending five years after university looking for work experience, which employers demand. To me it's totally cool because not everyone can afford a university education so even if you stop at college level, you can still have the skills and know how unlike an A' level drop out.

Grace KL Akiiki: Very good idea. Even the three terms in a year should be reduced to two. The subjects should be reduced from 14 to 8. My nephew in S.2 studies 14 subjects inclusive of both Islamic and Religious Education. You wonder why.

Alexis Mukama: A-level education should stop beating round the bush with combinations that leave you with no skills. Instead the two years should be invested in more specific education that introduces students to their fields of interest, eg. a two-year certificate in electronics, automotive, programming, welding, medicine for science students. Certificates in Economics, banking, insurance and the like for those interested in arts. This will make university a place for specialization at higher levels.

Yusuf Ale Mugwanya: Well, I support this 200%. And for those worried about medicine, students interested can take a two-year pre-med course (in which they study all the A' level sciences) and then get fully admitted to medicine upon satisfactory completion of the course. Hence, this would make medicine a 7-year course. Those who fail pre-med can then be admitted to other science disciplines.
Otherwise, this is a smart proposal.

Mike Payesu: Better idea because the two years is just a waste of life. The young blood take too many years acquiring knowledge without skills. People spend money, only to acquire knowledge of Napoleon wars, French revolution, slave trade, volcanic eruption, sketch maps, logarithmic equations, matrices, probability, laws of gravity, Isaac Newton laws, etc. Is this not confusion!!! Our education system is not skill-oriented.

Charles: I think we just need to reshuffle the whole education system. Let's make education something of importance not papers. Our education system tests memory not knowledge and I am ready to argue with anyone who doesn't believe that
Mostly this secondary level is purely memory and nothing like knowledge.

Carrick Hughes: I think it's actually O'level which needs to be erased. I failed all those useless chemical and photosynthesis stuff and never found any purpose for food path and ozone layers in my life. I feel people should choose what they want. Not everyone needs vocational training really. Let those who want tailoring among other people start their internship after P.7

Philmon Anderson: The problem is not A' level, but the poor system, mentorism, mentality and infrastructure. If your universities still have courses like arts in arts, then it's a big problem!! The student doesn't even know what he is studying!! Some parents are very poor at memntoring. Tell your kids the truth about the real world! Not this thing of study hard, after you will graduate, get a job, build a house, marry then drive a car! This is total nonsense, tell them how things are tough out there right from primary school. Lastly, we are fed up of your theories, be practical for once for God's sake

Felix Davis Einyu What will happen to those who would want to become secondary school teachers? I thing A' level can stay and even before results are released, students are enrolled for a mandatory one year vocational training before being accepted to the university.

Engole Martin: This is a joke, whoever proposed didn't go through A 'level. This is where the most knowledge is acquired to handle the university or vocational syllabus. There is no point to discuss this, it's only killing the county's education. You can't do vocational studies without passing through the most core of the layers. Let them scrap unnecessary subjects. If it's science, let them divide those who want engineering and those who want biological sciences. And in arts, they can also group business, social and vocational studies.

Bala Okot: From O' level direct to technical and tertiary is what I believe shall remedy this vague education system in Uganda. I'm now a civil engineer, but I remember "begger my neighbour policy, iron law of wages etc in economics (PEM/F.ART)" but I'm still wondering how it helped me reach where I'm today.

Odwee Sam: Vocational institutions once existed where students could pursue vocational courses in their areas of expertise; the colleges were Busitema National College of Agricultural Mechanization offering Diploma in Agricultural Mechanization and certificate courses in Electrical Installation, Black Smith, Tractor Operator courses and Fitter Machinists Technicians, others include Elgon Technical Institute, Lira Technical Institute, Kyambogo Technical Institute and National Teachers College Kyambogo and many others. But all these Colleges have been converted to Universities conferring degrees and leaving would be artisans with no option. Those institutions should regain their status to train students in craft courses to equip them with the skills they need for job creation!

Bashir Mwebe: Very good idea.. And I would propose even O' level to be scrapped off. Much attention should be given to primary level. Let kids chose their areas of interest by P7, then develop their interests through certificates and diplomas. By the time someone joins university for a degree, he/she would be a perfect graduate. This business of choosing an area of specialisation at a university level just produces fake graduates. I have taught at University before... So I am talking with experience.

What experts say:
However, educationists disagree, arguing that A'level is an integral part of education in terms of preparing students for university education and talent development.

Yusuf Nsubuga, the former director of basic and secondary school education, explained that it is at A'level that students identify their talents by choosing to study subjects they are competent in.

He said it is also at this stage that students are prepared for university education through limiting the number of subjects and focusing on personal interests.

Nsubuga said according to education psychologists, children who go to school at a very young age may not have the mental maturity required by universities by the end of O'level.

"I agree with them that our education system is longer than necessary. If somebody has attended pre-primary, seven years of primary education is unnecessarily long. If we could remove the unnecessary materials in O'level, then it can be covered in just three years. So instead of scrapping A'level, I would rather we reduce one year from primary and one year from secondary school," he said.

Robinson Nsumba-Lyazi, who is also a former director for basic and secondary school education, said the current system provides for vocational and technical education.

"When you read the education newspaper, it provides for a proposal where some schools could have options for comprehensive education, which involves technical or vocational education," he said.

Nsumba-Lyazi explained that for a school to take on comprehensive education, it must have enough facilities to be able to teach vocational education alongside pure academics.

He noted that the current challenge the country faces is a lack of facilities to have this kind of education.

"The investment is quite high, so you cannot go full blast as was done in Germany. The best option is to have general education for some schools and comprehensive education for others, giving a mix of both academic and vocational," Nsumba-Lyazie said.

He noted that comprehensive education aims at creating a balance so that the country has skilled labour in key areas.

Aggrey Kibenge, the undersecretary in the education ministry, said abolishing A'level is not the best remedy for the problems facing Uganda's education system, but rather the solution lies in addressing the content delivery approach vis-à-vis the competencies one should have at the end of the course.

"Even if we introduced elementary level, if the content delivery approach does not lead you to what you want to be, then there will be no difference," Kibenge said.

He said currently, there is an ongoing review of the secondary education curriculum aimed at addressing the concerns of Ugandans regarding the relevance of the content that their children are taught.

Kibenge noted that the relevance of a good education system is judged by four learning outcomes, which include learning to know, learning to do, learning to be and learning to live and co-exist not only with nature, but also with other human beings.

"We are not paying adequate emphasis to all these learning outcomes. Schools and parents are only focusing on knowledge to pass examinations and we need to address this," he said.

This year, the Kenya government will introduce a new education model to replace the 32-year-old 8-4-4 system.

The current system of education starts with eight years of primary school, followed by four years each for secondary school and university. This is being replaced with the 2-6-3-3-3 curriculum that reportedly places emphasis on the formative years of learning.

The learners will spend two years in pre-primary and six in primary. They will also be evaluated through continuous assessment tests on the skills acquired.