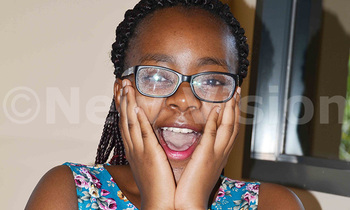 KAMPALA - Elizabeth Atukunda, 13, is Kampala Parents School's best pupil according to the 2018 Primary Leaving Examination(PLE) results that were released on Thursday.

She says since her father Maxim Mutabingwa, is a lawyer as well as her mother, Annette Karungi, she will work hard until she becomes a lawyer too.

"At first I had wanted to become a doctor but later I changed my minds because my parents always inspired me to study hard so that I become a lawyer like them," she says.

"Besides God's mercy and endless advices from my teachers, I wish to thank myself also for having been determined to pass, "she said before bursting into laughter.

Furthermore, Atukunda tells New Vision, that she hopes to join Uganda Martyrs' Namugongo despite the fact that her mother wants her go to Mt. St. Mary's Namagunga.