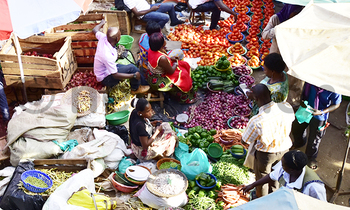 A survey around markets in Kampala indicates that the prices of food crops including fruits and vegetables have dropped.
Year-on-year headline inflation dropped by a 0.8 percentage points for the month of December coming in at a record low of 2.2% as prices of fruits and vegetables continue to slide.
The Consumer Price Index (CPI) report indicates that inflation for the month of December 2018 is lower than 3.0% recorded in November 2018.
The report by Uganda Bureau of Statistics (UBOS) attributed the drop in annual headline inflation further deceleration of prices of food crops especially prices fruits to minus 5.0% compared to minus 3.3% recorded during the period under review.
Inflation rate measures a broad rise or fall in prices that consumers pay for a standard basket of goods over a given period.
During the year 2018, inflation trend was kept in check on account of reduction in prices of food crops. The highest inflation rate recorded in August 2018 at 3.8%. This is below the Central Bank's 5% inflation target.
Notable price reductions of food stuffs include: beans, cow peas, Irish potatoes, matooke, onions, tomatoes, maize flour, pineapples and oranges.
In addition, prices of bread, cereal, oil & fats, sugar, jam, honey, chocolate, mineral water, soft drinks, clothing & footwear, beddings also declined.
Cissy Nakawuki, a retailer in Ggaba notes that a kilogram of beans costs sh4000, six pieces of tomatoes and onions cost about sh1000 to sh2000. A bunch of matooke costs between sh25000 to sh3500.
Nakawuki notes that despite consumers experiencing lower prices for food stuffs, farmers recorded low incomes for their agricultural yields.
Core inflation which excludes food, fuel and metered water which are volatile to price changes declined to 2.8% in December 2018 compared to the 3.4% that was recorded in November 2018.
The annual energy, fuels and utilities (EFU) inflation also declined to 6.9% in December 2018 compared to the 7.7% recorded in November 2018.
This is due to decline on solid fuels especially charcoal and firewood which declined to 3.2% from 4.8% and to 9.0% from 14.2%.
The annual average headline Inflation for the year ended 2018 was recorded at 2.6% compared to 5.6% that was recorded in 2017.