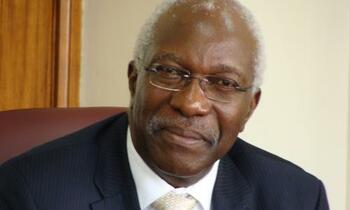 Auditor General, John Muwanga. Photo/File

DEVELOPMENT

KAMPALA - The Auditor General, John Muwanga, has said in his latest report to Parliament that sh28.4b could have been given to non-existent youth groups countrywide to fight unemployment.

In his report for the financial year ended June 30, 2018, Muwanga noted that whereas Ministry of Gender had budgeted for sh231.2b for financial year 2013/2014 to financial year 2017/2018, only sh161.1bn (69.7%) was released to the programme resulting in a shortfall of sh70.1bn (30.3%).

As a result, he said, only 15,979 (67%) of the proposed 23,850 projects were funded.

"This affected the number of youths who had been targeted by the programme by benefiting only 195,644 out of 286,200 youths (68%) by June 30 2018," he said.

From a total amount of sh38.8b that was disbursed to 5,505 Youth Interest Groups (YIGs) in the financial years 2013/2014 and 2014/2015, on average, only 26.7% was recovered from the youth countrywide.

"There is high probability that the balance of almost sh28.4b may never be recovered as almost 64% of the sampled projects, consisting of 71% value of loans, were non-existent. Another 25% had reportedly embezzled or diverted the funds," Muwanga said.

The Youth Livelihood Programme is a Government Programme being implemented under the Ministry of Gender through the Local Government Administrations.

The programme, which started in the financial year 2013-2014, was to respond to the existing challenge of unemployment among the Youth.

It is implemented through the district and support to the vulnerable youth in form of revolving funds for skills development projects and income generating activities.