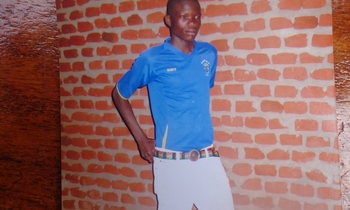 The late Yahaya Osendi. Photo by Betty Angatai.

ILLEGAL FISHING


MAYUGE - Three people drowned in Lake Victoria in separate incidents in Mayuge and Namayingo districts.

A 20-year- old man drowned in Lake Victoria in Kisumu- Walumbe waters in Wairasa sub county, Mayuge district when he had gone fishing with the colleagues.

The officer -in - charge of Criminal investigations, Hassan cherenget, identified the deceased as Yahaya Osendi, a son of Jenniper Namusisi, resident of Musoli landing site in Wairasa Sub County, Mayuge district. He said Osendi was a former student at Kakira high school in Jinja district and was in his senior six vacation.

He identified the survivors as Francis Brian Ouma 22 and Jonathan Jyazamigaile 22, all residents of Misoli village.

Fred Kisira, the Fisheries protection unit (FPU) defense secretary said that Osendi drowned in the lake Victoria due to fear of being arrested by the UPDF fisheries enforcement officers who were carrying out operations to crack down illegalities in fishing.

"They all fell into the water. One drowned and other two survived," Kisira said.

Ouma, a survivor says, they were fishing and other fishermen signaled to them that the UPDF fisheries officers were carrying out operations.

"We feared being arrested and we jumped into the water, unfortunately, our friend drowned because he didn't know how to swim," Ouma said.

NAMAYINGO - In another incident, two fishermen drowned in Buchunia waters in Lake Victoria Banda sub county in Namayingo district.

Kevin Mangeni,18, and Kelvin Bwire,20, all residents of Namake village in Banda sub county drowned when they had gone to hide their fishing gears in the water.

Jackson Makoha, the LC1 chairperson of Namake village said "After fishing, the duo went and hid their fishing nets in the lake, unfortunately they both drowned," He added that the two fishermen had caught a good number of fish.

Bonventure Ogutu, the Banda LC3 chairperson attacked residents for associating death with witchcraft.

Raymond Mujuni, the officer in charge of Banda police post advised fishermen on using life jackets in order to save their lives.

He said the bodies have been retrieved and handed over to relatives for burial.