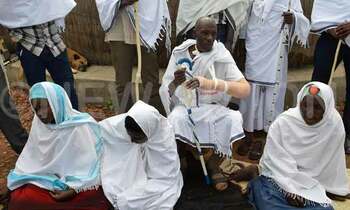 Idrisa Kaweesa ( with an injured arm) after declaring himself the new King of ankore . Photos by Adolf Ayoreka

CULTURE

MBARARA - The woes surrounding the family of the self-enthroned king of Ankole Umar Asimwe are not about to end soon, the latest is that his father Idrisa Kaweesa has banished him from the palace and enthroned himself as the new King.

Sources say on Sunday, the family held a meeting at Itaaba and Kaweesi banished Asiimwe telling him never to step on his land again and that Kaweesa took over the activities at the palace as the new Omugabe of Ankore to foster the bid towards the restoration of the kingdom.

Deliberate efforts from various groups in Ankole have been in place calling upon the Government to reinstate the Kingdom like other kingdoms but these efforts have hit a dead end.

Kaweesi, while speaking to New Vision on Tuesday confirmed that he has taken over the palace at Itaabe Kyabanyoro in Rwampara, Mbarara district, which Asiimwe has been claiming to be his.

The decision by Kaweesa to banish his son emanates from the December 31, 2018's fracas where Asiimwe and his team allegedly stormed the 'palace' where Kaweesa and other relatives had gathered to welcome the New Year 2019.

It's alleged that during the scuffle, Asiimwe and Kaweesa sustained injuries.

Police was called to contain the situation and Asiimwe was admitted to Mayanja memorial hospital whereas his father is currently receiving treatment from Mbarara regional referral hospital.

RELATED TO THE STORY