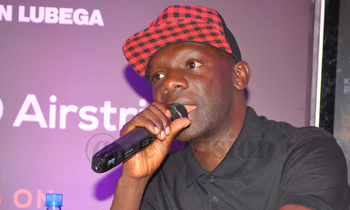 Pr. Bugembe speaking during a press briefing in Kampala on Tuesday. PHOTOS: Shamim Saad
Pastor Wilson Bugembe of Light the World Church in Nansana Wakiso district, has said musician and Kyadondo East Member of Parliament Robert Kyagulanyi (Bobi Wine) is yet to convince him to join his political camp.

"I am not yet Bobi Wine's voter. He is yet to convince me to join his political camp," Pastor Wilson Bugembe said as he addressed journalists in Kampala on Tuesday.

Bugembe is facing a backlash from some pastors for accepting to be part of Bobi Wine's political song Tuliyambala Engule, originally a gospel hymn sung in the Luganda language, spoken largely in central Uganda.

Bobi Wine's version of the song that features Pastor Bugembe and a number of other local artists has been viewed as an attack on the government.

"I don't want to fight government as a born again Christian, my individual thought is that government hasn't treated us so badly. We Pentecostal's have had immeasurable freedom to worship under President Museveni," Bugembe said.

"When I was asked to do the song, I was asked to be unifier in the song for all the political parties. In my heart, I was happy to be the peacemaker.

"I remember when we were shooting the video for the song, we didn't have caps for all parties. Bobi himself sent a boda boda man to Kampala who brought caps for NRM and FDC so we had all parties represented," he added.
(L-R) gospel artistes Remmygious Lubega, Levixone, team Leader Isaac Rucci and Pr. Wilson Bugembe interacting shortly after the press briefing
However, upon the release of the song, it turned out very political. "I received calls from many friends asking if I had embarked on a campaign to fight the government which of course was not true," he said.

Bugembe admits that he was left worried after the release of the song and if he was to be asked to do it song again, he would turn the offer down.

He says people should judge his part in the song independently. He says he was about making peace and representing the church in the song.

First to criticize Pastor Bugembe for singing in Bobi Wine's song was Makerere Community Church Pastor, Martin Sempa.

Equally critical of Bugembe's involvement in the song was Pastor Serwadda of Victory Christian Church in Ndeeba. They believe that he should not mix God with politics.

However, Bobi Wine says the power and energy those pastors are exerting on people who fight injustice should instead be diverted to fighting injustice.

He says Bugembe was threatened and his reaction to the current criticism was expected.

"What Bugembe said was right because he was probably being threatened. They never attacked him when he sung in Tubonga nawe, I wonder why they chose to attack him in a song like this one," Bobi Wine wondered.

"Above all, I wonder why its men of God that are attacking him. The struggle will one day end and we shall wear the victor's crown," he added.