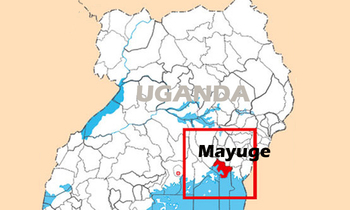 ACCIDENT

MAYUGE - It was after dusk and two lovers, one a cheating wife, decided to take advantage of the darkness around them.

Their sneaky sexual rendezvous was a bush in a remote village of Kalagala in Mayuge district, eastern Uganda.

All was going on okay until in the middle of the act, they heard footsteps nearby, which startled them.

Instinctively, in the moment of panic, the sex was brought to an abrupt end and the two lovers scampered off. The fear of being caught red-handed overpowered their urge to carry on with their intercourse.

But while in flight, the woman slipped into an exposed pit latrine, which had long filled and was out of use.

"We were making love and suddenly, we heard footsteps, and in fear of being arrested, we both took off. Unfortunately, I fell into a pit latrine," confessed Shamim Nyumbahe in the wake of the embarrassing episode.

The 27-year-old fell into the pit of poop as her lover continued his flight into the dark of the night without looking back. She said she yelled for help but no-one showed up - not even the man she had just been having sex with.

A night under the stars may seem unbearable, but that's a choice Nyumbahe would have at least rather prefered. Helpless with no one to save her, she spent a whole night inside the old stinking pit.

The following morning, a one Jackson Isabirye heard some laboured cries for help.

Upon discovering that it was a stranded human being, he immediately rushed off to call for help. Soon, joint efforts by local Police and residents, including area LC1 chairperson Bakali Mufumbiro, hauled her out of her misery using a rope.

Lucky to be still alive, Nyumbahe was moved to Kigandalo Health Centre IV for urgent medical care.

It emerged that the cheating mother of reportedly three children had moved all the way from her village in Kitovu to Kalagala - both are located in Bukabooli sub-county - to enjoy some quality time with her unidentified fugitive lover.

Her husband was not available for comment.


You may also be interested in this

Signs to confirm your spouse is cheating

Would you tell your friend of their cheating lover?

Man stabs 'cheating' wife in Mayuge

Man stabs 'cheating' wife and lover

My cheating ex is already in the arms of a new younger lover