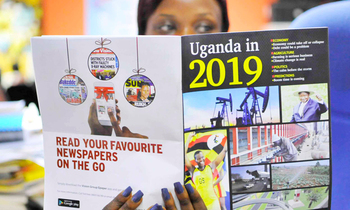 2019 GROWTH MINERALS

If ever there was a time when Uganda could have gone a whole year without destructive politics, this could be the year.

The general elections are still two years away and no major and contentious bills are expected to cause intense political debate, but as we all know politics, especially the partisan kind, will rise up and give you a kick in the behind when you least expect it.

Who expected the so-called ''people-power'' to cause such a ruckus last year? Away from the unexpected, 2019 should be a good year. As we have been doing for the last 12 years, the New Vision has produced the Uganda in 2019 magazine, in which a collection of experts in the fields of politics, business, finance, science, technology and the arts, alongside some of our prominent journalists, get together to give Ugandans a guide of what to expect in the year ahead.

This time, almost all of them agree that, yes, 2019 will indeed be a good year. What will stand out Top on the list of good tidings is that while the oil and gas will probably not be flowing this year, the signing of the Final Investment Decision will unlock huge sums of money into the economy, the biggest 'free' money the country has ever received.

This will affect almost all major sectors of the economy, and the areas around the oil-producing regions. Hoima will never be the same again. 2018 was a good year for tourism and this year will be even better, especially the nontraditional Meetings, Incentives, Conferences and Events (MICE) sub-sector.

Industrial parks are driving economic growth in many parts of the country and with the completion of the Karuma and Isimba dams, there will be sufficient power for them. Ugandan farmers will finally learn not to depend on the seasonal rains and agriculture as the sector will see unprecedented growth, with an increase especially in urban-based 'backyard farming'.

In sports, the She Cranes will continue to fly the national flag high while the Rugby Cranes might finally break the jinx of the Hong Kong 7s Series qualifiers. Do not expect too much from the Uganda Cranes football team, even if they managed to qualify for the (Africa Cup of Nations) AFCON. Look out for athletes like Joshua Cheptegei to make the world sit up and notice Uganda.

Find all this in the Uganda in 2019 magazine, inserted free of charge in tomorrow New Vision. Politics will see players jostling for position as preparations for the 2021 general elections kick off. Will the 'people power' translate into a genuine political movement or will it remain a series of rants on social media? Will FDC find itself becoming increasingly irrelevant in a fast changing political climate? Will Mugisha Muntu finally come into his own as a credible opposition leader?