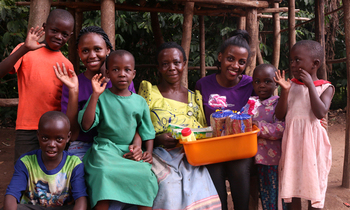 COMMUNITY KAYUNGA
In a bid to improve livelihoods, about 300 families of Nakaziba Village, Nakaseta sub-county in Kayunga, have received aid that included items such as food items and sanitation merchandise like soaps, detergents among others.

The items were donated by BaNgaAfayo (show you care) Initiative, a non-governmental organisation. According to the organisation officials, the poverty levels and lack of basic needs influenced the decision to come up with the programnme.

"Our organization believes that social capital investment is the main driver to financial freedom and good health through working with the widows and the community at large community to bring about positive change," said Joseph Ddiba, the organisation's Team Leader.
Ba NgaAfayo Uganda is a Christian based ministry providing critical assistance to former street children, orphans and families struggling in terrible poverty in Uganda.

"We are doing that in Kayunga because several families are poor and unemployment rates are quite alarming. We are trying our best to ensure that families have at least what to eat; teenage pregnancies also affect the development of some areas in Kayunga," said Ddiba.

He said the programme has been running for the last three years and since then a number of households have benefited.

"We invite those interested in supporting this work, to do that through sponsorship, donating food or joining as volunteers on the day we distribute the baskets. There is no doubt that together we can make a difference," Ddiba explained.

RinahNamatovu the programme manager at the organisation said: "It may not seem like much, but for a family with little or no food, providing a support this time of year is enormous. Our goal is to deliver holiday food baskets to poor families and small toys and gifts to families that cannot afford these for their children."


Beneficiary's view
Beatrice Nabawanuka aged 43, a widow and mother of five children from Nakaziba, a remote village, hailed the organisation for initiative saying it the money she incurs in buying food will be saved for some time.

She noted that being a single mother who is not employed, she gets challenges in clearing school fees in time.

"It's really difficult. My children did not get their report cards from school last month because I've not yet finished school fees (sh300, 000) needed at school, and yet holidays will be ending soon for them to go back to school," she said.