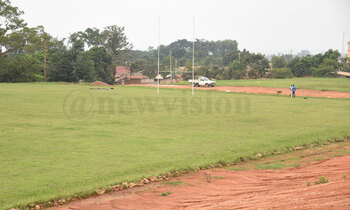 Stanbic Black Pirates Rugby Club have a long-term plan of transforming their rugby grounds into a sports complex.

The 2018 Nile Special Premier Rugby League champions recently launched their new home (Kings Park) in Kakajo, Bweyogerere.

Pirates became the first Ugandan rugby club to own a home outside Kampala.

Team manager Solomon Ssendigya says their new home will be more than just a rugby pitch.

The playing and training pitches which were completed are Phase I of the five phases of the project. Phase II will include setting up of a club house which will have a bar and Hall of Fame, while Phase III will have basketball, volleyball, tennis and netball courts.

Phase IV will have the construction of the sitting stands and Phase V will include construction of a swimming pool and a hotel that will accommodate teams.
Pirates team manager Solomon Ssendigya
Ssendigya says Pirates can now prepare for matches sufficiently without restrictions on when and how long to use the pitch.

"The completion of this facility is an assurance that rugby takes precedence at any time. These stories of rugby being sacrificed for weddings, parties and other social activities outside sports are no more," Ssendigya said.

He added that the new home gives them a challenge of setting up more teams.

"Besides that, as a club, we have bargaining power to negotiate bigger partnerships with sponsors because we have space for them to erect their billboards for advertisement," the manager noted.

Ssendigya added that the stadium will create employment and business opportunities for the players and the community.