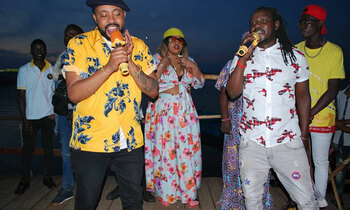 As it has always been, Christmas is a period for love, merrymaking and fun. In Kisoro, this wasn't any different.
All roads led to Lake Mutanda Beach for the annual music concert dubbed "East Africa Christmas Bash".
Organised by Mountain Squad entertainment, the event's main entertainer a renowned Kisoro based afro music star, John Mbonigaba commonly known as John King put up an electrifying performance.
Clad in a perched shirt and jeans, the dreadlocked singer hit the stage at 4:00pm. He put up an electrifying performance with songs such as amarira yurukundo(Tears of Love), Shellinah, Dawe, among many others, which left revelers yearning for more.
Unlike previous shows, this year's edition was also graced by Rwandan musicians such as, Nick Dimpoz, Mutoni Assia known as Rosine, Intare Y'ingore(meaning Lioness). The event was also graced by local leaders including the Kisoro LC5 chairman, Abel Bizimana and businessman Trevor Mugenga.
Other activities that happened at the East Africa Christmas Bash prior to the musical performance include the Batwa culture dance, swimming competitions, boat riding, eating and drinking competitions.