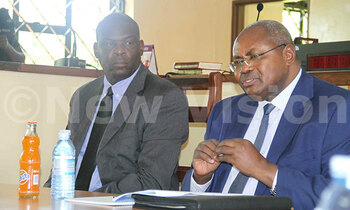 LIRA- The Principal Judge Yorokamu Bamwine has called on judicial officers to know that in whatever they do, they are accountable to the people.

Bamwine accompanied by Director of Public prosecution Mike Chibita and other senior judicial officers were in Lira to familiarise plea bargain programme.

Plea Bargain is basically a promise to plead guilty to a charge in exchange for a recommendation for a lesser sentence or a promise to cooperate as a witness for the prosecution in exchange for a reduced charge or reduced sentence or both.

While meeting judicial officers, and other stakeholders at Lira High Court, Bamwine said whatever work they do will have consequences.


He cautioned that if they do a wrong thing, they should know that it will have consequences beyond their office and institution.

"It may be a simple thing but it will have consequences beyond your office," he said.

He urged them to Work as a team and avoid sentence which is laughable and may cause public concern. "I always tell people to think big, think global and in whatever you do, put justice first," he stressed.

Bamwine also said any sentence sanctioned must reflect the interest of the victim, the complainant, community and the interest of the accused person. "That person we are dealing with is not necessarily an animal, he is a human being, have that at the back of your mind."

He said while in Mbarara on a similar mission, they were told that some judges were refusing to sanction the proposed sentences in open court because they are either too high or too low. That some were increasing sentence there and then in court, which is not a plea bargain sentence any more. "It undermines the process," he said.

He said if there is any objection to agreed sentence, it should be done in the chambers during pre-trial session.

The Director of Public Prosecution, Mike Chibita on his part said they have now embraced plea bargain 100% unlike in the past when it was misunderstood.

He said since the programme started, they have had only one case where a person on aggravated robbery and murder walked away with three years sentence.

He also noted that some people in his office, Police, prison and judiciary are so used to backlog cases.

Counsel Quirinus Oyugi Onono raised a number of issues including allegations that paralegals have started extorting money from suspects who want to participate in plea bargain.

He said in cases where many suspects are arrested and some decide to plead guilty, the rest are still kept on remand and denied justice.

He said there are some suspects who have spent four or so years on remand and their case can be pushed to the next session which may take long to come. He requested that such cases should be considered for nolle proseque.

But the Regional DPP Lira, Martin Rukundo said in some cases where there are many accused persons, especially in cases related to land wrangles, one suspect may sacrifice to plead guilty to save the rest but for them, they look at the evidence to determine the guilt of each person.

He said sometimes they don't allow plea bargain because the intention of the accused person is to save the rest, sometimes even the principal offender.

Bamwine said this is a tricky matter that should be handled with care. "They might have struck a deal that you go look after my family while I serve," he said.

The Resident Judge Alex Mackay Ajiji commended the members of the bench saying they are a committed lot, always prompt in court. He also commended the Lira RSA Gloria Akello saying she has been perpetually busy since 2012 without taking leave.

Shamim Amolo, a representative of the Uganda Law Society said plea bargain is being embraced in the region.

Amolo said there are several cases that go to court when in the first place they should not have reached court.

In his remarks, the principal judge urged the judicial officers to let the inmates see the difference between plea bargain and sentence got after trial, let's send a message that plea bargain is better than going through a full trial.