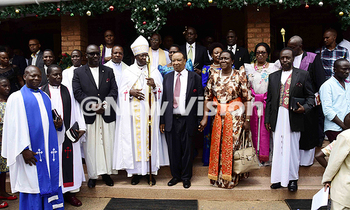 (Photo credit: Kennedy Oryema)

CHRISTMAS DAY



KAMPALA - As Christians celebrate the birth of Jesus Christ this festive season, the Bishop of Namirembe Diocese, Rt. Rev. Wilberforce Kityo Luwalira, has exhorted them to look beyond the revelries synonymous with the day, but instead seek to renew their faith.

In his Christmas message to the congregants on Tuesday, Luwalira decried the social, political and economic ills blighting the country.

He challenged Christians to live the true meaning of their faith and give meaning to the birth of Jesus, who "came to restore order in lawless lives, families, communities and nations".

Luwalira also took a swipe at Christians who run from one church to another and worship religious leaders on account of being in position to perform miracles instead of God.

"As we commemorate the birth of Jesus Christ, we are still grappling with issues of domestic violence, human trafficking, oppression, corruption, injustice, land grabbing, murders and thefts.

"Do you see men and women who cannot handle any file without being paid kickbacks yet they are civil servants?" he said.

The prelate's message was a true mirror of what is happening in the country, with stories of ritual child sacrifice, the displacement of the poor by moneyed property developers and murders remaining news staple.

"For how can we do all these things and yet we call ourselves Christians?" he said.

In Matthew 9:37-38, the writer noted: "The harvest is plentiful but the workers are few. Ask the lord of the harvest, therefore, to send out workers into his field."



In his sermon, Luwalira urged Christians to accept to be used as vessels to do God's work and he cited the biblical examples of Mary, Joseph, the shepherds and the Wise Men from the East.

The cleric exhorted Christians to accept to be used as transformative agents in their families, communities and nation.

"God's mission is still alive, and still looking for men and women who will say I am ready to do your will, to be used as ministers and stewards of his word."

For religious leaders that are consumed by the spirit of self-aggrandizement, Luwalira prayed that they accept to be used as vessels to do God's will instead of basking in the false limelight of their parishioners worshiping them.

"We have challenges of believers moving from church to church, from pastor to pastor, bishop to bishop, claiming that some leaders are more powerful than the others - to the extent that some church leaders are worshipped," he intoned.

Luwalira's comments about some religious leaders veering off biblical teaching and turning the gospel into a business and an avenue for basking in self-aggrandizement comes at a time when Government has mooted the idea of sanctioning a policy to regulate clerics and places of worship.

One of the most contentious issues in the mooted policy is a requirement for all religious leaders to attain some level of theological training.

Among the congregants at Namirembe was former Prime Minister Prof. Apolo Nsibambi, Rtd. deputy Chief Justice Steven Kavuma and Uganda's deputy ambassador to China, Henry Mayiga.



Also related to this story

As it happened: Christmas Day in Uganda