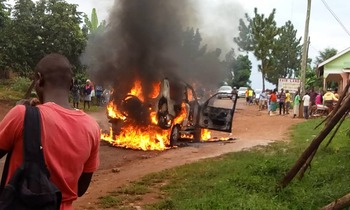 POLICE DRIVER GOVERNMENT VEHICLE
Fear griped residents of Ggwafu West village in Namiryango parish, Goma division in Mukono Municipality when a speeding vehicle belonging to Ministry of Lands knocked two residents dead.

The deceased included a bodaboda rider Isaac Ssekirime of Seeta-Namilyango stage and his passenger Nice Kalimwine.


It is alleged that the driver of a vehicle registration number UG 0130L knocked the cyclist as he left Seeta to Namiryango at a terrific speed.

The accident happened on Seeta-Namiryango road.


The unidentified driver is said to have escaped the wrath of the angry mob by the help of the Police officers who later detained him at Seeta Police station.

The residents set ablaze the vehicle and by the time the firefighting Police from Mukono arrived, the vehicle had already been reduced to ashes.


The riders said they had lodged complaints about the way this driver has been driving and asked the Police to put him to order in vain.


The bodies of the deceased were taken to Mulago mortuary and the Police towed away the remains of the burnt vehicle.