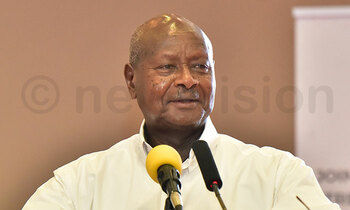 POLITICS

President Yoweri Museveni has called on the political elite in Uganda and in Africa as a whole to address strategic challenges facing the continent because that is the only way to ensure Africa is not re-colonized.

"Law is a neutral agent. It is provides legal protection. If it is a de-colonised country, it follows that we must have laws that do away with colonial concepts and entrench democratic concepts as we understand them," he said.

The President made the remarks on Friday at a dinner organized by the Uganda Law Society at Kampala Serena Hotel to launch the construction of the new Uganda Law Society House to be sited along Acacia Avenue in Kampala's Kololo area.
The President contributed sh5b to the project that is expected to cost sh15b.

President Museveni according to a release from State House, observed that it is totally inappropriate to impose colonial concepts on a country that is de-colonised, adding that, "you cannot put a square peg in a round hole."

He, therefore, called on lawyers to enact laws that promote the county's interests.
He said that it was totally inappropriate for the Faculty of Law at Makerere University that is still being run under colonial arrangement that had been tailored to satisfy foreign interests.

Pesident Museveni reminded lawyers of the need for the prosperity of the people of Uganda which called for inter-trade not only among themselves but across the East African, African and internationally arenas.

Mr. Simon Peter Kinobe, President of Uganda Law Society, thanked President Museveni for supporting their efforts and for his generosity too.
He said that the project will go a long way in enhancing the dispensing of justice in Uganda.