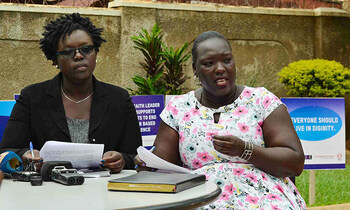 Women activists under their umbrella body - Uganda Women's Network (UWONET), have asked government to increase police budget to enable efficient investigations of Gender Based Violence (GBV) cases.

This follows recent statements from police that out of 100,000 cases of Gender Based Violence cases reported annually, they can only investigate 4,286 cases and this is due to limited funds.

Speaking during a press conference on the 16days of activism against gender based violence, the programme coordinator Women's Rights and Access to Justice Laureen Nabimanya, said the inadequate funding has led victims of GBV to foot the bills for transportation of officers to arrest the accused, forensic examination fees and other expenses related to investigations.

On a monthly basis, UWONET receives 15 cases of violence against women. The programme coordinator Women leadership and democratic governance Suzan Labwot, said most of the women who are sexually abused at workplaces fear to report their bosses because they do not want to lose their jobs.

"This year, we have only received four cases of sexual harassment in both formal and informal sectors yet many women are being sexually harassed and this is because they fear losing their jobs and uncertainty of finding another alternative job. Rooting out of violence and harassment in the workplaces is a collective effort that will require intentional, consistent and comprehensive efforts by all stakeholders,'' Labwot said.

A study carried out by the European Union Agency for fundamental rights revealed that between 74% and 75% of women doing vocational jobs and those who occupy senior leadership positions have experienced sexual harassment at some time in their lives.

According to Uganda Police Crime Report, out of 1,335 rape cases reported, only 396 were taken to court, 6 resulted into convictions and 375 are still pending.

The women noted with concern that delays in prosecution of Sexual Gender Based Violence (SGBV) cases , case backlog, poor case handling methods, delay in investigations, result into acquittals and at times letting off offenders with mild punishments.

The women highlighted the need to provide survivors of violence with legal support and health, safety and shelter needs.

In Namutumba district, 95% of the cases reported this year by women are related to SGBV, 5% men also have reported cases of domestic violence.

The Uganda Demographic Health Survey 2011 revealed that 56% of women aged between 15 and 49 years have experienced physical violence at some point in life and 22% have experienced sexual violence. This translates to more than 1 million women who are exposed to sexual violence every year.