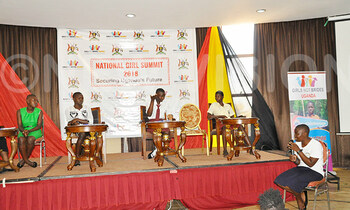 A-17-year-old girl, who sat for her Primary Leaving Examinations at Ogule central primary school in Paliisa district stood at a podium at the national girl summit in Kampala on Friday and told her story of one year in child marriage.

She referred to it as hell on earth; she survived by the grace of God. However her child at only one month of age, couldn't withstand and died.

Her revelations steered emotional shock among the participants who included government officials, Members of Parliament, religious leaders, private sector representatives, civil society and United Nations agencies and media at Imperial Royale Hotel in Kampala.

"We had nothing to eat since my husband who was just 18-years-old had no job and the entire family turned against me alleging that I had brought bad fortune in their family," she narrated.
Drake Rukudo, an analyst addressing participants during the summit

She was way laid on her way back home from a night disco and raped by a man who was in company of gang of criminals.

"After two months tests indicated that I was pregnant, I started staying with the man who had raped me," she said.

With support from a local organisation, Visionary Lady, a member of Girls Not Brides Uganda, she was rescued in 2016 and her parents accepted to take her back to school.

The summit was structured under the theme: "Securing Uganda's future; a time to move from commitment to implementation in the campaign against child marriage and FGM,"

Moses Ntenga, the executive director of Joy for children Uganda and Chairman of Girls Not Brides Uganda Alliance organised a platform where governments, civil society, UN agencies, private sector, academia, religious leaders and traditional leaders discussed and developed a national plan of action towards realising the rights of girls in Uganda.
The Chairman, Girls Not Brides Uganda Alliance Moses Ntenga addressing participants during the national girl summit

"What we are trying to do is to create a safe environment in which girls can enjoy their rights and freedom without constraint and with integrity, economic empowerment, among others.

The campaign to end child marriages and other forms of violations of the girl-child rights require a concerted effort of all key players," he said.

Girls Not Brides Uganda Alliance, is a consortium of 78 civil society organisations working to end child marriage and female genital mutilations.

Jova Kamateeka, the woman MP Mitooma district, disclosed that progress with supervision of was being made by government in fulfilling policy obligations in line with the national, regional and international commitments directed toward eliminating child marriages and FGM.

Globally, over 200 million girls living today have suffered FGM. Each day, 37,000 girls under age 18 are forced into child marriage, and in developing countries, 1 in 3 girls is marred before age 18, and 1 in 9 before age 15.