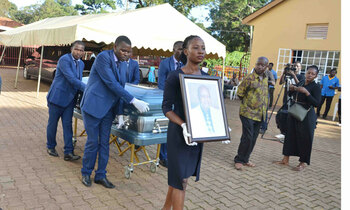 Casket containing the remains of Muhangi arrives at All Saints' Church Nakasero. Photos by Stuart Yiga
CHARLES MUHANGI FUNERAL SERVICE
Friday, a queue of rally drivers in their deafening hard-body cars made their way towards All Saints Cathedral, Nakasero.
The drivers accompanied a black hearse, which contained a casket carrying the remains of Charles Muhangi — the African Rally Champion of 1999, who died suddenly on Thursday morning.
The motorcade snaked through the city centre to All Saints' Chruch Nakasero.
City traders and cyclists waved at the convoy as it went through the city centre
Others joined the convoy to church. No wonder the church was full to capacity, including the tents that were erected outside.
Some traders closed their shops to have a glimpse of Muhangi's last journey through the city, which he had been part of for the last 30 years.
The casket containing Muhangi's body arrives at Nakasero
Arrives in church
Mourners in church
His children lay the wreath
Sad moment for the children indeed
Muhangi's wife lays the wreath
Former prime minister Amama Mbabazi was among the mourners
Principle judge Yorokamu Bamwine lay the wreath
Funeral service was attended by businessmen as well as politicians. Ammong them Gen. Henry Tumukunde, Hassan Basajjabalaba, MARY karooro Okurut and Mike Mukula
The Rev Canon Erisa Grace Sentongo, one of the priests who led the service, said Muhangi had lived his life and in so doing, let his light shine on everyone he touched.
Karooro, Amama and Jaqueline Mbabazi
Sad moment
The mood inside the church was unexpectedly okay, until Muhangi's daughter, who studies at Gayaza High School came to eulogise her father. She broke down and many in the church followed suit.
Muhangi left seven children
Searching for answers!!! Only God can provide
Farewell Charles Muhangi.
Born September 1957, Muhangi will be laid to rest on Sunday in Bumbaire sub-county, Bushenyi district.