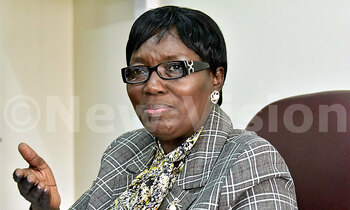 With government moving fast to plug gaps in marine transport safety in the wake of the Gaba beach tragedy that claimed the lives of 32 revelers a fortnight ago, Speaker of Parliament Rebecca Kadaga is opposed to the idea of setting up a marine school at Busitema University.
The minister of works, Eng. Monica Ntege Azuba early this week revealed that plans to wean Uganda off its dependency on Kenya and Tanzania to train marine staff, boat skippers and captains will come to fruition with the aforesaid school.
Only the harmonisation of the curriculum, Azuba said, is the only loose end remaining to be tied for the marine school to kick off.
However, Kadaga yesterday questioned the rationale of starting a marine school at Busitema - a place far away from any water body, instead of Namasagali as earlier directed by President Yoweri" Museveni four years ago.
"A decision was taken four years ago to establish that school at Namasagali University. And that was a presidential directive. We cannot have a maritime school at Busitema which has no water body," Kadaga said as she publicly commented about the Gaba boat tragedy for the first time.
Located in Kamuli district, Namasagali University is located near River Nile unlike Busitema University which is hundreds of kilometres from Lake Victoria - the closest water body.
Following the boat accident, government has conceded that most of the laws governing maritime transport in Uganda are obsolete and incapable of meeting the challenges facing the sector.
One such law - the inland water transport (Control) Act was enacted 79 years ago. Although some of the provisions like the need for inspection and registration of boats, wearing of life jackets are still pertinent, a new law to holistically address maritime transport safety is in the offing.