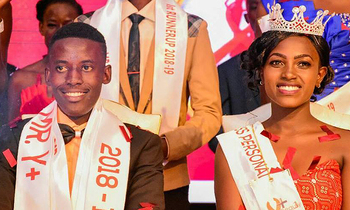 PIC: This year's contest winners - Niwamanya and Nabanoba. (Courtesy photo)

POSITIVE LIVING

Last Friday's Y+ Beauty Pageant grand finale was arguably the greatest event to have happened not only in the circles of young people living with HIV/AIDS, but also in Kampala.

A total of 18 HIV-positive finalists from auditions held from different regions countrywide, mainly students, gyrated their way down the runway at Sheraton Hotel in a bid to find the new Mr Y+ and Miss Y+.

Add a dollop of entertainment to such an event and you will get the youths in high spirit.

Musician Rema Namakula featured on the menu, and belted out some of her best music. Joanita Kawalya also got her youthful audience off their seats and on their feet with hits such as Malayika.


Rema Namakula did what she does best. (Courtesy photo)


'Beauty with Zero Discrimination' was the theme of the glamorus event, which saw Vivian Alice Nabanoba and Hillary Niwamanya crowned Miss Y+ and Mr Y+ 2018/19, respectively.

By winning, the duo became the national ambassadors to lead the fight against HIV/AIDS stigma and discrimination in their communities, work place, schools and global platforms.

Nabanoba, 24, is an expert client at Alive Medical Services while 22-year-old Niwamanya is a student of Namasuba College of Commerce, pursuing a diploma in hotel management and catering.


'Exceptional brains and confidence'

The chief judge, senior pediatrician Dr. Sabrina Kitaka, hailed the winners, saying they could not have had better choices than Nabanoba and Niwamanya.

Both are from the central region.

"They exhibited exceptional brains, confidence, eloquence and knowledge and information on HIV/AIDS issues affecting young people. Indeed, they can drive the theme of 'zero stigma' to greater heights," said Kitaka.

After being declared winner, an overjoyed Nabanoba said she would use her position to touch people's lives, especially those deep in villages, and also to create a better life for people living with HIV, especially young people.

"As the national Miss Y+, I am going to work closely with the Uganda Network of Young People Living with HIV/AIDS (UNYPA) to ensure that we reach the young people who are not yet on board, those living in denial and those who are not strictly adhering to their medication," she said.

Nabanoba learnt about her HIV-positive status in 2012 after testing voluntarily.

She used to test many times just for fun. Once, the health worker who tested her concealed her results. It was only after some time the same health worker realised her condition was deteriorating that he told her mother about her status.

He advised her to start medication before the virus could put her down.


The judges were impressed. (Courtesy photo)


'Stigma more lethal than HIV'

Meanwhile, Niwamanya was also born with the HIV virus, but only came to know about it in 2008 aged 12. He would often fall sick. His mother's friend, who suspected he could be having HIV, took him to Milmay Uganda, where the teenage lad was diagnosed with the virus.

He is the second-born of three. His other siblings are HIV-negative.

"I have personally experienced stigma and I am still facing it from my neighborhood at Gangu off Busabara Road, where parents bar their young girls from associating with me, saying I will 'kill' their daughters. They came to know about my HIV status from our maid who spread the rumour to them," Niwamanya said.

Although the competition was stiff, he was excited to be crowned national Mr Y+, as he sees it as a platform he can use to sensitise fellow youth, his peers and the entire community struggling with stigma and others living in denial.

"Stigma is more lethal than HIV, and the struggle against the epidemic will never succeed without addressing stigma.

"My victory is a milestone in my life. I will make sure I destigmatize the community about the pandemic," said Niwamanya.


Why the Y+ Beauty Pageant?

The contest is organised annually by UNYPA, with the aim of addressing and ending stigma and discrimination surrounding HIV.

Nicholas Niwagaba, the executive director of UNYPA, said young people continuously face frustrations arising from stigma and discrimination from families, schools and the general public, which in the long run affects their uptake of HIV services from health centres and adherence.

"They then become fearful to disclose their status," he said.

"UNYPA therefore uses the Y+ Beauty Pageant as a tool to uplift the plight of young people living with HIV, re-echo their voices and work together with partners to build a strong, energetic, creative and productive generation."


UNYPA executive director Nicholas Niwagaba. (Courtesy photo)


The Y+ Beauty Pageant gives a platform to young people living with HIV to become voices to the voiceless, pillars of boldness and strength to those still afraid of HIV testing, as well as testimonies of assurance that acquiring HIV is not the end of life.

Nuwagaba acknowledgeD that many young people are acquiring HIV because they don't have accurate information about the virus. The success stories the young people who take part in the Y+ beauty pageant share show that they grow and shine with this platform.

To begin with, they are shown that they are beautiful/handsome.

Secondly, they are told to embrace themselves.

And thirdly, they are encouraged to adhere to their medication.

The capacity of these young people is built and they are equipped and they become ambassadors of change in their communities.



'Investment in human dignity'

The guest honour at the crowing ceremony, Dutch envoy to Uganda, Henk Bakker, said young people living with HIV should not be shunned away from community and the programmes for their development therein.

He also acknowledged the support that different development partners have continued to commit and fulfill towards eliminating HIV/AIDS in Uganda.

On her part, UNAIDS country director Dr. Karusa Kiragu noted that Uganda is a model country in the fight against AIDS.

"Ending AIDS is an investment in human dignity and not a charity," she said.

Uganda has 1.1 million people on treatment (out of 1.3 million living with HIV), which Kiragu said is key to achieve the 90-90-90 UNAIDS target.

The target projects that by 2020, 90% of all people living with HIV will know their HIV status, 90% of all people with diagnosed HIV infection will receive ARVs and 90% of all people receiving antiretroviral therapy will have suppressed viral load.

Speaking at the same function, Anna Mutavati, the deputy representative UN Women, lauded the challenge that young people have placed upon themselves to curb the transmission of HIV which reflects as violence imposed on the victim.

She urged men to take up responsibility in ensuring the safety and development of all girls and women.

"I hail the continued support from policy makers, CSOs, UN agencies and the government to ensuring that there is a reduction in the number of new infections, especially among young people.

"The fact that everyone is starting to take the responsibility to fight stigma and discrimination, which are all forms of violence, will enable us reach a beautiful shore - Zero HIV/AIDS by 2030," said Mutavati.



The stats

According to the 2016 World Population Data Sheet, Uganda has the highest percentage of people between the ages of 15 and 25 living with HIV/AIDS in East Africa.

3.7% of females and 2.4% of males in the age group live with HIV in Uganda, which also ranks ninth in Africa. Uganda is followed by Tanzania, Rwanda and Burundi.

Shockingly, 575 adolescents and young women between 15 to 24 years in Uganda get infected with HIV on a weekly basis (MOH report).

UNAIDS' new statistics have indicated that 575 adolescents and young women (15-24 year) have become a vulnerable group who are getting infected much more than others in Uganda. These are not girls born with HIV, but newly infected every week.

When they clock 15 years, they become vulnerable to getting HIV.

This, according to Niwagaba, is one of the reasons they launched the Y+ Beauty Pageant to de-stigmatize the community about HIV/AIDS. UNYPA has been organizing the beauty contest for young people living with HIV since 2014, meaning this was their 5th edition.

Botswana, one of the countries in sub-Sahara Africa with the highest HIV/AIDS prevalence rate, was the first to organize a beauty pageant for HIV-positive contestants in 2000, and it has since organized over 20 such beauty contests to help reduce the HIV stigma.

Uganda is probably the second African country to organize such a beauty contest, courtesy of UNYPA, an HIV service organization established to provide leadership and co-ordinate the greater and meaningful involvement and participation of young people living with HIV in Uganda.


Also relate to this story

Addressing HIV/AIDS: Y+ pageant regional search underway

Tackling HIV: Ugandans shine in Amsterdam

15-year-old wins young positives pageant

Oganisers speak out on Miss HIV+ beauty pageant